« previous post | next post »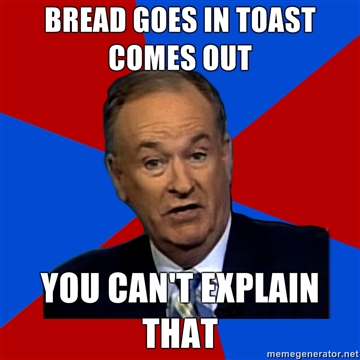 I doubt that it has the staying power of lolcats, but for the moment, people are having a lot of fun mocking Bill O'Reilly's puzzling argument for the existence of God:
Audio clip: Adobe Flash Player (version 9 or above) is required to play this audio clip. Download the latest version here. You also need to have JavaScript enabled in your browser.
I'll tell you why it's not a scam, in my opinion. Right?
Tides goes in, tide goes out, never a miscommunication.
YOU can't explain that.
Robert Quigley at geekosystem has large selection of examples ("Bill O'Reilly's Tidal Skepticism Launches 'You Can't Explain That' Meme", 2/10/2011).
Further theological arguments from Mr. O'Reilly are available here, courtesy of Stephen Colbert (O'Reilly segment starts around 2:30):
---