« previous post | next post »
The most recent xkcd takes on the scourge of Trochee Fixation: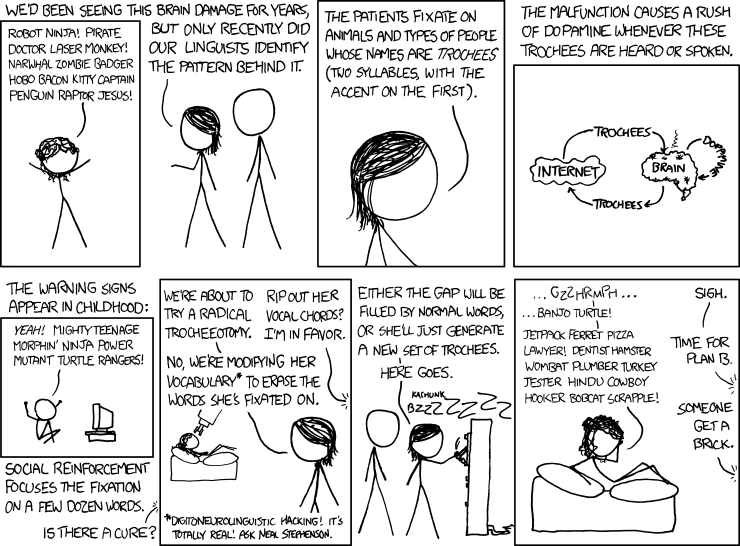 (Click on the image for a larger version.)

The Huffman-coding crack in the mouse-over title ("If you Huffman-coded all the 'random' things everyone on the internet has said over the years, you'd wind up with, like, 30 or 40 bytes *tops*.") is a bit of an exaggeration, but the meaning is clear. I'm more in interested in the footnote in the sixth panel:
… we're modifying her vocabulary* to erase the words she's fixated on.
*Digitoneurolinguistic hacking! It's totally real! Ask Neal Stephenson.
This is probably a reference to the plot device in Snow Crash that the Wikipedia entry describes this way:
The book explores the controversial concept of neuro-linguistic programming and presents the Sumerian language as the firmware programming language for the brainstem, which is supposedly functioning as the BIOS for the human brain. According to characters in the book, the goddess Asherah is the personification of a linguistic virus, similar to a computer virus. The god Enki created a counter-program which he called a nam-shub that caused all of humanity to speak different languages as a protection against Asherah, supposedly giving rise to the biblical story of the Tower of Babel. […]
As Stephenson describes it, one goddess/semi-historical figure, Asherah, took it upon herself to create a dangerous biolinguistic virus and infect all peoples with it; this virus was stopped by Enki, who used his skills as a "neurolinguistic hacker" to create an inoculating "nam-shub" that would protect humanity by destroying its ability to use and respond to the Sumerian tongue. This forced the creation of "acquired languages" and gave rise to the Biblical story of the Tower of Babel. Unfortunately, Asherah's meta-virus did not disappear entirely, as the "Cult of Asherah" continued to spread it by means of cult prostitutes and infected women breast feeding orphaned infants …
But it might also be a reference to the echoes in The Big U of Julian Jaynes' The Origin of Consciousness in the Breakdown of the Bicameral Mind. However, I've mercifully forgotten the details, and my copy has vanished, perhaps taken by undercover operatives from the Sumerian Dictionary Project.
[I feel that the Wikipedia article's reference to "neurolinguistic programming"  in Snow Crash is somewhat misleading, not say a mistake. NLP is certainly controversial, not to say nuts, but Sumerian is not in the picture, as far as I know. And Snow Crash focuses on "neurolinguistic hacking", a term and concept that were perhaps inspired by NLP, but NLH (to coin an acronym) is anything but therapeutic in intent.]
---