« previous post | next post »
Dean Barrett sent in this thought for the day from Yunnan Province: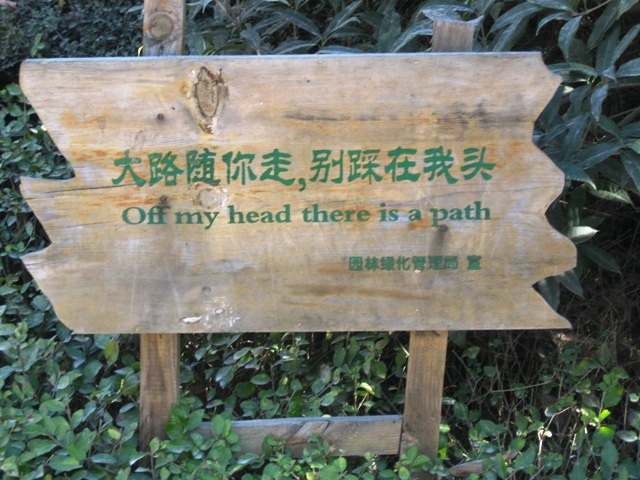 The English rendering of the Chinese sign sounds somewhat profound and even poetic, but what does it really mean?

The sign gives voice to the personified plants, beseeching those who have come to walk in the woods:
Dàlù suí nǐ zǒu, bié cǎi zài wǒ tóu. 大路隨你走,別踩在我頭。
"Follow the main path as you please, but don't step on my head."
"Off my head there is a path" is charming, but I doubt that many English speakers will get the message.
It's also worth noting that the zài 在 ("on") in the second clause would be perceived by most speakers of Modern Standard Mandarin as ungrammatical (at least unnecessary), since cǎi 踩 by itself means "trample on; trod upon"). The reason it got stuck in there nonetheless is to fill out the pentasyllabic meter of the clause, so that it matches the five beat rhythm of the first clause. Clearly, the author of the sign was striving not only for prosodic effect, but also for poetic impact. Note that the two clauses rhyme.
[A tip of the hat to Bob Sanders, Gloria Bien, Cornelius Kubler, and Perry Link]
---