« previous post | next post »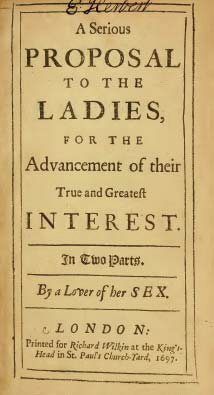 Recently, a series of serendipitous connections led me to read Mary Astell's work, A serious proposal to the ladies, for the advancement of their true and greatest interest, first published in 1694.  And this experience led me to two questions, the first of which is, Why in the world are Mary Astell's works not available in a readable plain text form, from sources like Project Gutenberg and Wikisource?
Astell's Wikipedia entry explains that she "was one of the first English women to advocate the idea that women were just as rational as men, and just as deserving of education." And she is important enough to merit an entry in the Stanford Encyclopedia of Philosophy, which describes at length her contributions to metaphysics and epistemology.
I know that the first-order reason for this lacuna is that OCR is still pathetically incapable of dealing with 17th-century printing, and that no volunteers have stepped forward to transcribe her writings from the available paper or image sources. But this doesn't really answer the question, it just moves it back a step.
Anyhow, my second question is one that I've wondered about before, without ever trying to find an answer: Why did authors from Astell's time distribute initial capital letters in the apparently erratic way that they did?

Here's the first sentence of A Serious Proposal to the Ladies:
LADIES, SInce the Profitable Adventures that have gone abroad in the World have met with so great Encouragement, tho' the highest advantage they can propose, is an uncertain Lot for such matters as Opinion, not real worth, gives a value to ; things which if obtain'd are as fitting and fickle as that Chance which is to dispose of them ; I therefore persuade my self, you will not be less kind to a Proposition that comes attended with more certain and substantial Gain ; whose only design is to improve your Charms and heighten your Value, by suffering you no longer to be cheap and contemptible.
In that sentence there 10 nouns with initial capitals (Adventures, World, Encouragement, Lot, Opinion, Chance, Proposition, Gain, Charms, Value) and 4 with initial lower-case letters (advantage, worth, value, things). There's also one adjective with initial capitalization (Profitable), and 10 with initial lower-case letters (highest, uncertain, real, fitting, fickle, kind, certain, substantial, cheap, contemptible).
Here's the last sentence of Part 1:
To close all, if this Proposal which is but a rough draught and rude Essay, and which might be made much more beautiful by a better Pen , give occasion to wiser heads to improve and perfect it, I have my end. For imperfect as it is, it seems so desirable, that she who drew the Scheme is full of hopes , it will not want kind hands to perform and compleat it. But if it miss of that, it is but a few hours thrown away, and a little labour in vain, which yet will not be lost, if what is here offer'd may serve to express her hearty Good-will, and how much she desires your Improvement, who is LADIES, Your very humble Servant.
In that passage there are 7 nouns with initial capitals (Proposal, Essay, Pen, Scheme, Good-will, Improvement, Servant) and 8 with initial lower-case letters (draught, heads, end, hopes, hands, hours, labour, vain). All 9 adjectives have initial lower-case letters (rough, rude, beautiful, better, imperfect, desirable, kind, hearty, humble).
And a representative bit from page 6:
And sure, I shall not need many words to persuade you to close with this Proposal. The very offer is a sufficient inducement, nor does it need the set-offs of Rhetorick to recommend it, were I capable, which yet I am not, of applying them with the greatest force. Since you can't be so unkind to your selves, as to refuse your real Interest, I only entreat you to be so wise as to examine wherein it consists ; for nothing is of worse consequence than to be deceiv'd in a matter of so great concern.
Here we have 3 nouns with initial caps (Proposal, Rhetorick, Interest) and 8 without (words, offer, inducement, set-offs, force, consequence, matter, concern). [And never mind, for now, Astell's italicization choices…]
Adding up the totals from the three passages, we get 10+7+3=20 nouns with initial capital letters, and 4+8+8=20 nouns with lower case letters. The choice seems to be partly a matter of emphasis or contrast, and partly a matter of substance, and partly a matter of chance — a bit like intonational pitch modulation?
A bit of research turned up only one serious study of this question: N. E. Osselton, "Spelling-Book Rules and the Capitalization of Nouns in the Seventeenth and Eighteenth Centuries", In Historical and Editorial Studies in Medieval and Early Modern English, ed. Arn M.J. et al., 49–61, 1985.
I haven't yet obtained a copy, but I found some quotes and summaries in various online sources. Thus from Alan Levinovitz, "'Dao with a Capital D': A Study iin the Significance of Capitalization", Journal of the American Academy of Religion, 2015:
In one of the only extant studies of English letter-case usage, N. E. Osselton observes, "The reader of facsimiles or of original texts printed between 1550 and 1800—and perhaps especially those from the middle part of the seventeenth century—is constantly aware that the initial capitals mean something, though he may be at a loss to define precisely what it is they do mean".
And from Ingrid Tieken-Boon van Ostade, Introduction to Late Modern English, 2009:
The use of extra initial capitals, according to Osselton, steadily increased during the first half of the eighteenth century to about 100 per cent around the 1750s after which this practice was drastically reduced and, fifty years later, abandoned completely. The reason for giving up the practice to capitalise all nouns was pressure from writers, who felt that they could not longer make use of capitals to emphasize individual words, as they had been accustomed to do before such idiosyncratic use of capitals was standardised by the printers.
There's obviously much more to say about this question, but that's all I have time for this morning.
---