« previous post | next post »
Advertisement for a beverage that is available in Japanese convenience stores: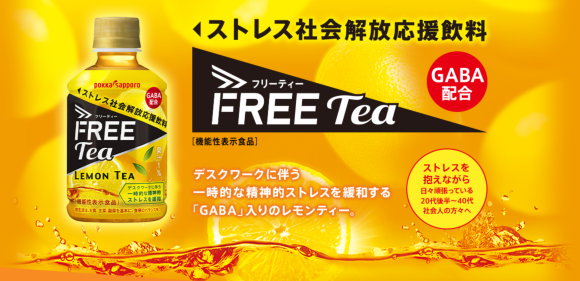 The label identifies the drink as "FREE Tea" ( furī tī フリーティー) and as being produced and distributed by the Japanese beverage giant Pokka Sapporo.  This does not mean that you should feel free to help yourself to a bottle without paying!  Rather, "free" here is being used in the sense of "sutoresufurī ストレスフリー" ("stress-free"), as is made a bit clearer by the band of lettering at the top of the ad:
sutoresu shakai kaihō ōen Inryō ストレス社会解放応援飲料
("beverage that supports liberation from 'stress society'").
The label also notes that "FREE Tea" contains GABA extract, which is supposed to give the tea a soothing quality.
"FREE Tea" made big waves on Twitter recently when a non-Japanese Asian took the English name literally (in the wrong sense) and drank a bottle of it in a store without paying.  See:
[h.t. Nathan Hopson]
---