« previous post | next post »
Laura Ellis, "Why Go There? A Linguist Dissects Jim Gray's 'Wild-Ass' Zinger", WFPL 11/1/2016:
Kentucky U.S. Senator Rand Paul and his opponent, Lexington Mayor Jim Gray squared off Tuesday night in their only face-to-face debate of the election season. For an hour, they talked about the future of coal, Kentucky's heroin problem, and more.
But it was one particular turn of phrase, used by Gray, that caught people's ears. It includes a word for the human posterior.
What Jim Gray said:
He wants us to believe
that his wild-assed theories and philosophies
are the remedies for everything
WFPL was not the only media outlet to correct Mayor Gray's wild-assed to "wild-ass" — e.g. "Debate: Mayor Gray says Sen. Paul has 'wild ass' theories. Rand calls him a hypocrite.", McClatchy.
Ben Zimmer, who sent this to me, noted an ADS-L thread earlier this year on ADJ-ass vs. ASD-assed, starting with Wilson Gray (no relative, as far as I know, to the mayor of Lexington):
Apparently, it has become a thing that _-assed_ will be represented only as _-ass_  – even in scholarly and academic literature – based solely on the way that it is heard, whereas _boody_ will be represented as – and interpreted as – _booty_, despite the way that it's heard.  
Jonathan Lighter then pointed out the relationship to the whole -ed/ø thing, as in ice(d) cream, skim(med) milk, pop(ped) corn, wax(ed) paper:
OED has "ice cream" in 1672, "iced cream" in 1688: surely close enough to make it uncertain  which was the original.  
I suspect it was "iced," but that's merely an opinion.  
OED has an "iced cream" from as recently 1996, but my guess is that is either a hypercorrection or a typographical error.
Some relevant earlier LLOG posts:
"The intensified crack of dawn?", 6/7/2005
"New intensifiers", 8/16/2004
"Root haughtiness", 8/20/2011
"Is it a prosodic-ass constraint?", 8/25/2011
"Rachel Jenteal's language in the Zimmerman trial", 7/10/2013
"Can '[adjective]-ass' occur predicatively?", 11/18/2013
"Ignoble-ass citation practices", 11/12/2014
"Rand Paul's 'dumbass' comment", 10/16/2015
And just because someone is otherwise sure to mention it in the comments, the famous xkcd strip: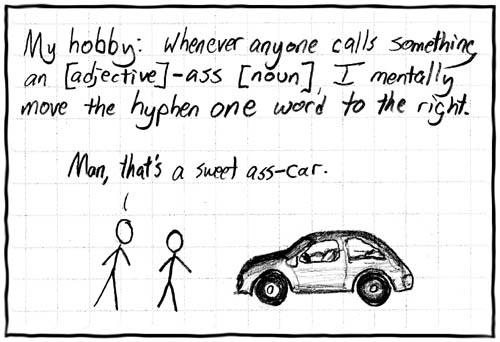 Because Mayor Gray clearly enunciated "wild-assed theories", we can't mentally shift the hyphen to yield "wild ass-theories". Oh wait, …
---