« previous post | next post »
Oliver Darcy, "REBELLION: RNC staffers 'defying orders' to keep working for Trump, source says", Business Insider 10/8/2016.
So how are those staffers defying orders? Are they ceasing to work for Trump despite orders to continue? In that case, it's "orders to keep working for Trump" that they're defying. Or are they defying instructions (to stop), (in order) to keep working for Trump?
Aaron Dinkin points out that the headline is perfectly ambiguous in this respect. And interestingly, both meanings are consistent with what we know about disagreement and confusion within the Republican party.
The article makes it clear that the intended meaning is the first one:
"They're dropping their duties to the campaign," the source told Business Insider. "Turning their attention to Senate/House." 
"Folks at the RNC are disgusted," the source said.  
"Expect RNC [staffers] to start leaving if Reince doesn't act," the source added, referring to party chairman Reince Priebus.
The obligatory screenshot: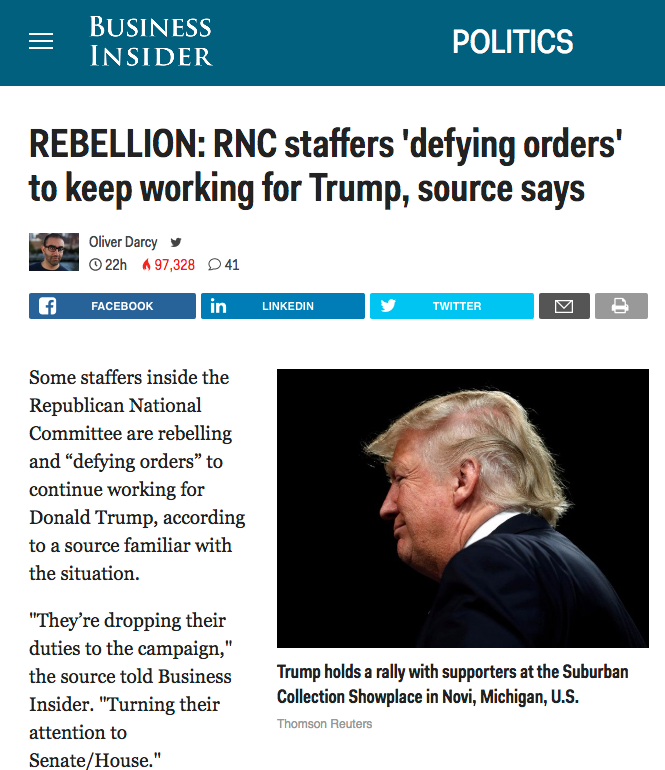 ---