« previous post | next post »
In "Annals of overgeneralization" (10/8/2013), I criticized a paper by David Comer Kidd and Emanuele Castano, "Reading Literary Fiction Improves Theory of Mind", Science 10/3/2013. My complaint was that they drew conclusions about the effects of  reading three general categories of texts — "literary fiction", "popular fiction" and non-fiction —  based on experiments involved a small sample from each category, selected by the authors as in their opinion representative of the genre.
But you probably won't be surprised to learn that a replication attempt using exactly the same texts, performed by three separate research groups working in parallel,  failed to replicate Kidd and Castano's results.
The paper reporting this replication failure has just appeared:  Maria Eugenia Panero, Deena Skolnick Weisberg, Jessica Black, Thalia R. Goldstein, Jennifer L. Barnes, Hiram Brownell, and Ellen Winner, "Does Reading a Single Passage of Literary Fiction Really Improve Theory of Mind? An Attempt at Replication", Journal of Personality and Social Psychology 9/19/2016:
Fiction simulates the social world and invites us into the minds of characters. This has led various researchers to suggest that reading fiction improves our understanding of others' cognitive and emotional states. Kidd and Castano (2013) received a great deal of attention by providing support for this claim. Their article reported that reading segments of literary fiction (but not popular fiction or nonfiction) immediately and significantly improved performance on the Reading the Mind in the Eyes Test (RMET), an advanced theory-of-mind test. Here we report a replication attempt by 3 independent research groups, with 792 participants randomly assigned to 1 of 4 conditions (literary fiction, popular fiction, nonfiction, and no reading). In contrast to Kidd and Castano (2013), we found no significant advantage in RMET scores for literary fiction compared to any of the other conditions. However, as in Kidd and Castano and previous research, the Author Recognition Test, a measure of lifetime exposure to fiction, consistently predicted RMET scores across conditions. We conclude that the most plausible link between reading fiction and theory of mind is either that individuals with strong theory of mind are drawn to fiction and/or that a lifetime of reading gradually strengthens theory of mind, but other variables, such as verbal ability, may also be at play.
The paper indicates that "Maria Eugenia Panero, Deena Skolnick Weisberg, and Jessica Black are joint first authors".
You should read the whole paper — if your library doesn't have a subscription to the journal, you might try sci-hub.bz — but here are two key figures. First, the estimated effects of various examples of "literary fiction":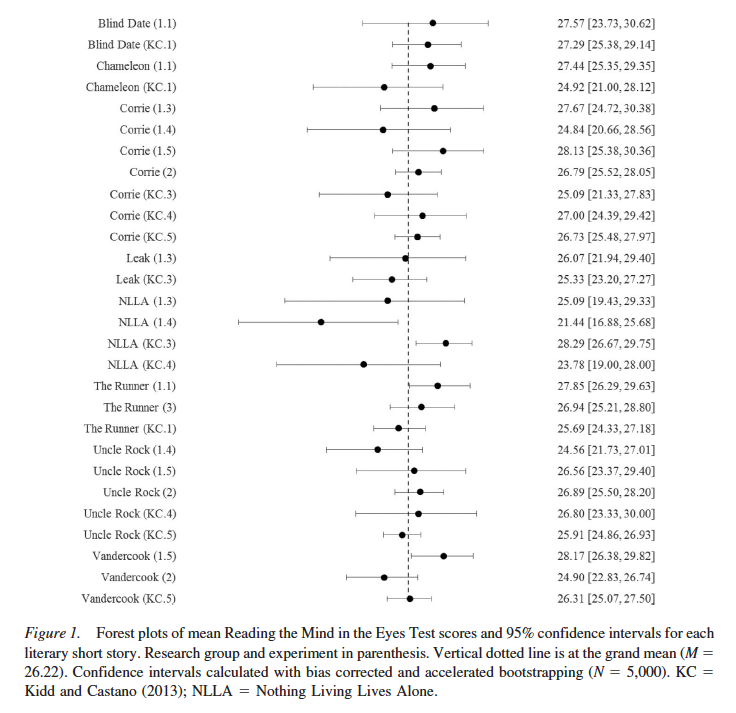 And second, the estimated effects of various examples of "popular fiction":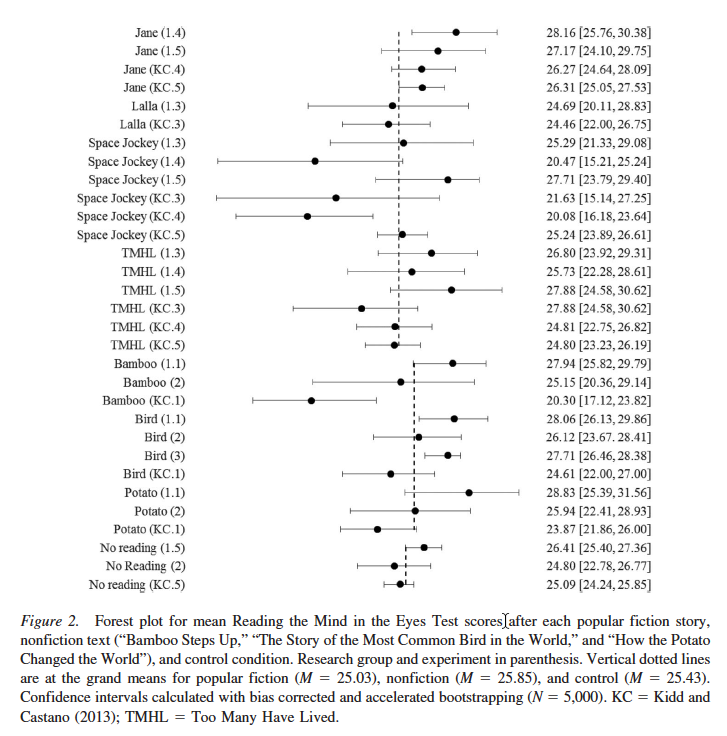 The authors have posted their data on the Open Science Framework.
---