« previous post | next post »
Sent in by Michael Robinson:
I saw this traffic sign in Toledo, Ohio. Luckily I wasn't driving a truck, or I would have had no idea what I was allowed to do. Since we were in a car, we figured U-turns must be OK. Because we were heading to a place that sold coffee, and nothing must stand between us and our morning latte.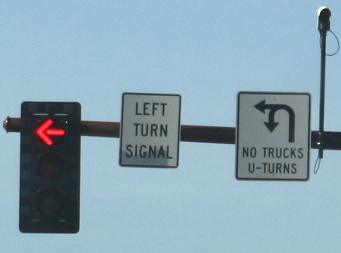 I'm not sure that Michael was in the clear. Working out his concern in more detail, the full deontic-logic table for this sign is
| | | |
| --- | --- | --- |
| | Other Vehicles | Trucks |
| Left Turn |  ? |  ? |
| U Turn |  ? |  NO |
| No Turn |  ? |  ? |
The sign could mean that U-turns by trucks are forbidden — and by Gricean implication, the other five conditions are allowed. Or it could mean that trucks are not allowed to make any turns, and no vehicles are allowed to make U-turns.
Or …
Anyhow, according to Ohio Laws and Rules 4511.36 Rules for turns at intersections:
(C) The department of transportation and local authorities in their respective jurisdictions may cause markers, buttons, or signs to be placed within or adjacent to intersections and thereby require and direct that a different course from that specified in this section be traveled by vehicles, streetcars, or trackless trolleys, turning at an intersection, and when markers, buttons, or signs are so placed, no operator of a vehicle, streetcar, or trackless trolley shall turn such vehicle, streetcar, or trackless trolley at an intersection other than as directed and required by such markers, buttons, or signs.
So there's that.
And Internet search turns up this troubling item on amazon.com: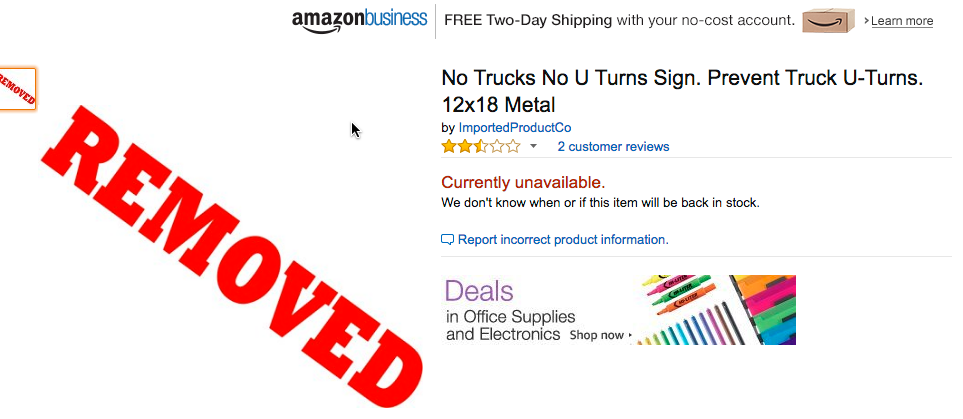 Perhaps a broader version of this traffic-sign semantics puzzle will play a role in Dan Brown's next semiotic thriller.
---