« previous post | next post »
Shaun King, "North Carolina police kill unarmed deaf man using sign language", New York Daily News 8/22/2016:
This is as bad as it gets.
A North Carolina state trooper shot and killed 29-year-old Daniel Harris — who was not only unarmed, but deaf — just feet from his home, over a speeding violation. According to early reports from neighbors who witnessed the shooting this past Thursday night, Harris was shot and killed "almost immediately" after exiting his vehicle.
He appeared to be trying to communicate with the officer via sign language.
Screenshot: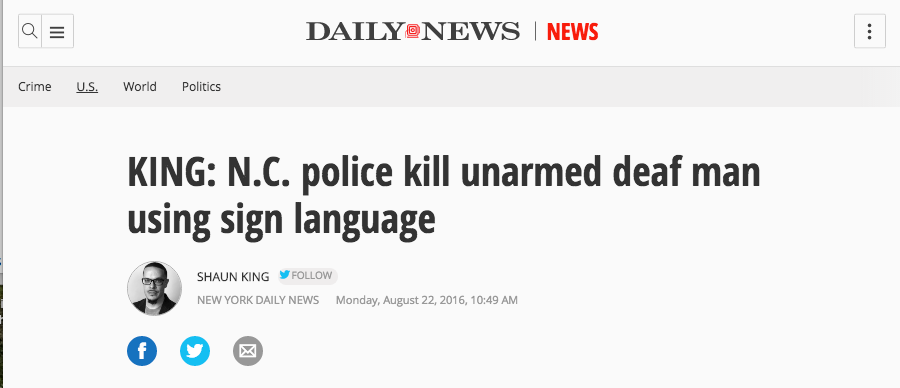 Local news coverage is here (warning: autoplay).
Update — after looking at more than 200 examples of the form VERB NOUNPHRASE1 using NOUNPHRASE2, I could find only a handful where the using-phrase is a modifier of NOUNPHRASE1, or part of an untensed clause [NOUNPHRASE1 using NOUNPHRASE2], rather than an instrumental adjunct modifying the VERB:
… turning his back to avoid a septuagenarian using an aluminum walker …
… you need a tablet using an x86-based processor …
… he overheard his father using those words once …
So the crash blossom misparsing is overwhelmingly the stochastic-parsing choice, never mind what makes sense.
Update #2 — The described event is horrific, and underlines what seems to be a serious problem with the training, attitudes and behavior of police forces in the U.S. I apologize for seemed to trivialize the incident by focusing on the parsing of a misleading headline.
---