« previous post | next post »
PolitiFact recently took up the case of a Donald Trump campaign video that shows Hillary Clinton apparently announcing her intention to raise middle class taxes (Linda Qiu, "Donald Trump wrongly says Hillary Clinton wants to raise taxes on the middle class", PolitiFact 8/5/2016). The crux of the matter is this passage.
I'm telling you right now,
we're going to write fairer rules for the middle class,
and we aren't going to raise taxes on the middle class.
The Trump video subtitled it this way: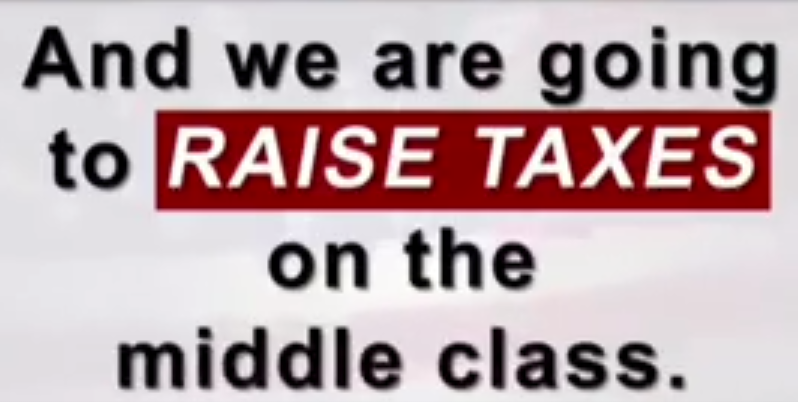 After listening to the original recording, talking with various reporters who were there, looking at the distributed transcript of Clinton's speech, and consulting with two phoneticians, PolitiFact rates the Trump campaign's version as (liar, liar) "Pants on Fire".
It's a well known problem with the English language, at least as spoken by many 21st century Americans, that can/can't and are/aren't are often nearly indistinguishable, especially preceding a consonant, due to lenition or even deletion of the final /t/. You can listen to the crucial region of Clinton's performance, and hear this problem for yourself:
I agree with PolitiFact's conclusion, and with Alan Yu's explanation:
"It is pretty common for people to not release the final 't in word-final -nt clusters and is definitely not likely for someone to release the 't' in a three-consonant sequence like 'ntg'  in 'aren't going,'" Yu told us. "In any case, since she did pronounce the 'n' in 'aren't', it is clear that she produced the negated form of the copula 'are.'"
But the Praat screenshot that Alan Yu sent them evokes two of my pet Praat peeves: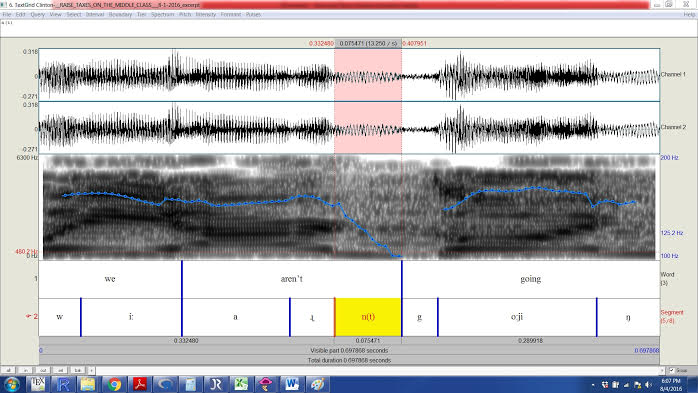 (1)  The waveform display in the top pane shows two (stereo) channels that are completely identical, as is often the case with digital media. At best this reduces the quality of the visual display, and at worst it's confusing to viewers.
(2) The spectrogram display in the middle pane retains (I think) Praat's default dynamic range of 70 dB, as a result of which most of the displayed information is noise — as visible in the fact that the spectrogram is mostly different shades of black, because this setting maps the grey scale as black for the loudest sound, and white for a power level 70 dB below that. To really get 70 dB signal to noise ratio (a ratio of 20,000,000 between the amplitude of the signal and the amplitude of the noise), you'd need to record in a sound-treated booth with a super quality microphone and preamp. A recording of a speech like Clinton's, made over a large room's sound system might attain 40 dB between the loudest and softest parts if you're lucky — in this passage, the range is about 37 dB, so that recorded "silence" is still halfway to black in the spectrogram above.
None of this is Praat's fault (except for the optimistic default dynamic range setting). Here's a display, also made with Praat, showing just one copy of the waveform, and setting the spectrogram dynamic range to 33 dB: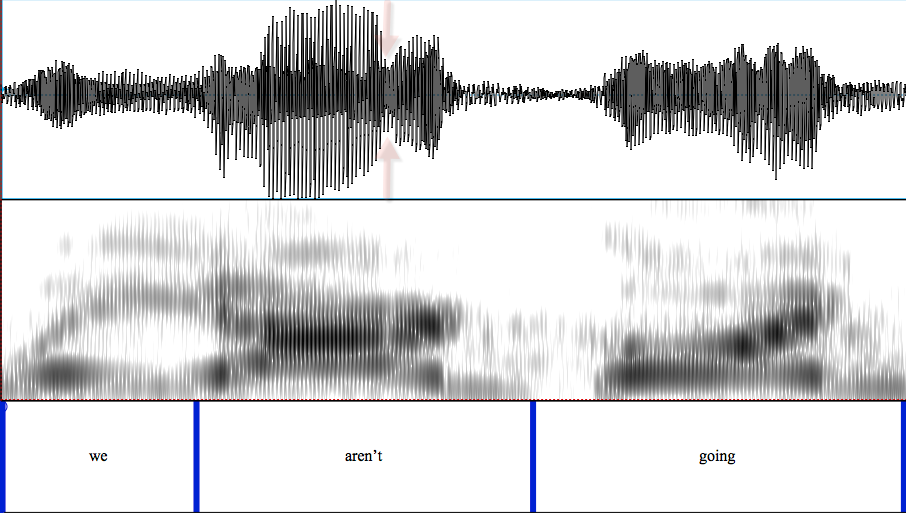 This illustrate's Alan's point more clearly, I think — at least for an audience with some basic training in spectrogram reading, which alas PolitiFact's readers mostly are not.
One more interesting thing. There's a sort of hitch in the signal amplitude about 50 milliseconds before the [n] closure, at the point indicated by the red arrows in the waveform display. I suspect that this is a bit of glottalization. The phonetic interpretation of the /ntg/ sequence in "aren't going" would often involve a glottalized /t/, which would often merge with the /n/ into a glottalized nasal.
Apparently in this case, the glottalization gets a bit out of sync with the closure. I wonder whether this is a general thing, with Clinton or others, or just a one-time event.
And then on a somewhat different topic, there's a something to be said about the intonation contours of Clinton's speechifying style — as opposed to her interview style. Here's the pitch contour of the segment we started with (using displayed using WaveSurfer, a program whose pitch displays are easier to see):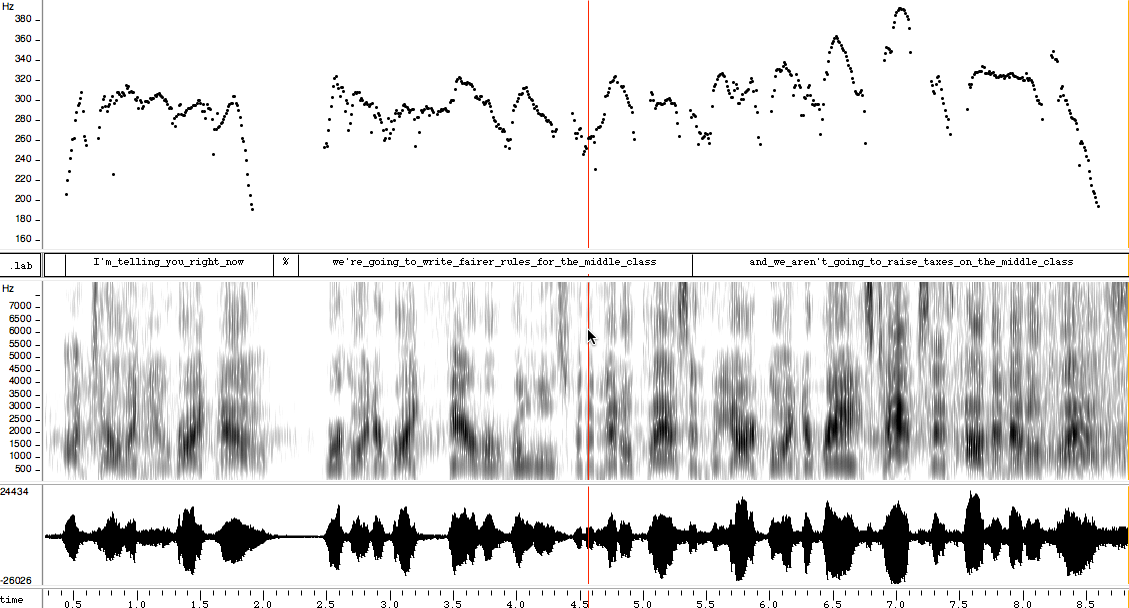 I'll take that up another time — but for now, take a look at Daniel Lombroso and Olga Khazan, "The Science Behind Hating Hillary's Voice", The Atlantic 8/1/2016.
---