« previous post | next post »
Here is a photograph of some Chinese anti-American protesters from "The complete guide to China's propaganda videos blaming the West for almost everything", by Zheping Huang, Quartz (8/8/16):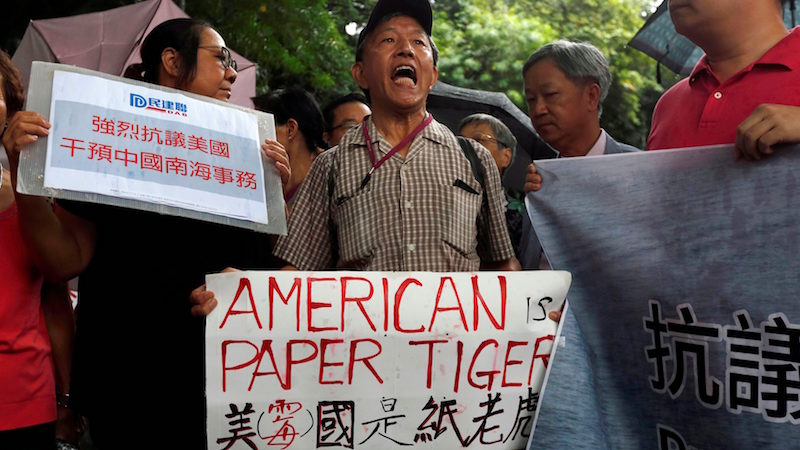 What's going on with that transcription of the name for America?
Měi(méi)guó 美(霉)國
Anybody who has taken first-year Mandarin will know that the Chinese name for America is Měiguó 美國 and that that "means" "Beautiful Country".  Of course, the "měi 美" ("beautiful") part of the name is actually the transcription of the sound "-me-" in "America".  This is all the more obvious from the earlier, and fuller, Chinese transcription of the name "America", Yàměilìjiā 亞美利架 ("America"), which has been around since at least the latter part of the 18th century.  See "Spelling with Chinese character(istic)s, pt. 2 " (6/16/16).
Lately, because of conflicts with America on many fronts, but principally over the ruling on China's claim to ownership of the Nánhǎi 南海 ("South Sea") by the Hague Tribunal (International Court of Justice), in favor of the Philippines (who brought the suit) and against China, which America accepts and China ignores, China is sending out a lot of anti-American propaganda hate.
Now, if the Chinese characters may be said to convey meaning, it simply will no longer do to call America "Beautiful Country" (Měiguó 美國).  That's why some folks have taken to calling America "Mildew Country" (Méiguó 霉国) or glossing Měiguó 美國 as Měi(méi)guó 美(霉)國 ("Beautiful –> Mildew Country").
To afford a greater appreciation of the semantic range of "méi 霉", I list here some other possible translations of the character besides "mildew":  mo(u)ld, fungus, bacterium, germ, must ("the unfermented or fermenting juice expressed from fruit, especially grapes"), musty, bad luck.
I don't know if it will catch on and stick, but "霉国" already garners 106,000 ghits.  If you read Chinese and want to see some of the nasty things that are being said about this"霉国" ("Mildew Country"), take a look at a few of these posts on Weibo, etc.  A lot of it has to do with the South Sea.
A final note:  it's convenient for those who want to denigrate America orally that měi 美 ("beautiful") is 3rd tone and méi 霉 ("mildew") is 2nd tone.  Clear distinction there.
---