« previous post | next post »
Michael Rank sent in this notice banning the picking of mushrooms at Chobham Common, Surrey, said to be the largest nature reserve in the southeast of England: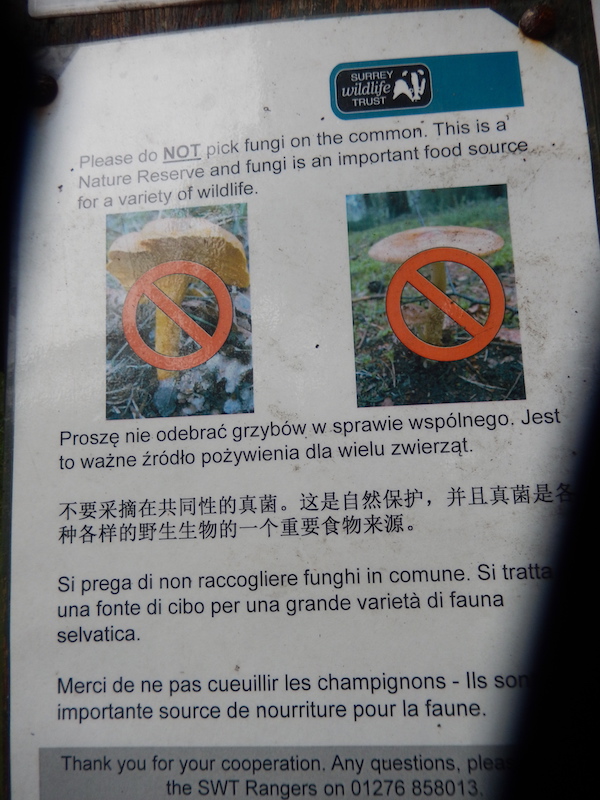 The English notice is translated into Polish, Chinese, Italian, and French.  I suppose their choice of languages was directed at speakers of those languages whom they thought were most likely to pick the wild mushrooms in this Nature Reserve.
I won't go through each of the four translations to determine their accuracy, and I won't even pick holes in the Chinese, which has several, but will focus on one that is particularly intriguing.  Namely, the Chinese translates "common" as gòngtóngxìng 共同性, meaning something like "commonality" or "shared nature" –- an abstract noun.  Because "common" is preceded by a preposition and a definite article, it has to be a noun, not an adjective, which is most often the case in English.  The preposition is "on", which calls for a locative noun, but — so far as I know — there is no locative noun meaning "common" in Chinese.  The translator, wanting to stick with the idea of "common" in Chinese, kept the usual adjectival term gòngtóng 共同 ("common") and turned it into an abstract noun by adding the suffix -xìng 性, which is comparable to -ity and -ness in English.
The use of "common" as a noun to mean "A tract of land, usually in a centrally located spot, belonging to or used by a community as a whole: a band concert on the village common" (AHD) is rare in American English.  I can think of "Boston Common" and several other New England commons in this sense, but outside of New England my impression is that most Americans would not be aware of this usage.  I suspect that the same situation obtains for most other world Englishes, including Chinese English.  This is not a usage that would be taught in typical English classes in China, and I doubt that there is a fixed translation for "common" in the sense of "tract of land… belonging to or used by a community as a whole".  Nor would this usage be represented in many medium-sized or smaller dictionaries.
I'm not sure how idiomatic the Polish ("w sprawie wspólnego") and Italian ("in comune") translations are either, but note that the French version gets around the problem by not translating "on the common" at all (it's not essential, and the Chinese translation could have done the same).
---