« previous post | next post »
For the past week, I've been in Paris attending JEP-TALN-RECITAL 2016 ("31ème Journées d'Études sur la Parole — 23ème Conférence sur le Traitement Automatique des Langues Naturelles  — 18ème Rencontre des Étudiants Chercheurs en Informatique pour le Traitement Automatique des Langues). This event certainly takes the prize for the longest acronym of any conference I've ever attended.
Attending a francophone conference gave me a chance to practice what remains of my high-school French, and the content was worthwhile as well — I heard many interesting papers and saw many interesting posters, about which more later. I haven't posted much during the past week because the internet at the conference site was badly overloaded, and the situation at my hotel was not much better. But now at CDG waiting for my flight there's decent connectivity, so here's a little something about signage translation.
Versions of the sign pictured below were all over the place in the hotel — this one was in the elevator, but there were larger versions on stands in the lobby, on the wall in the breakfast room, and so on: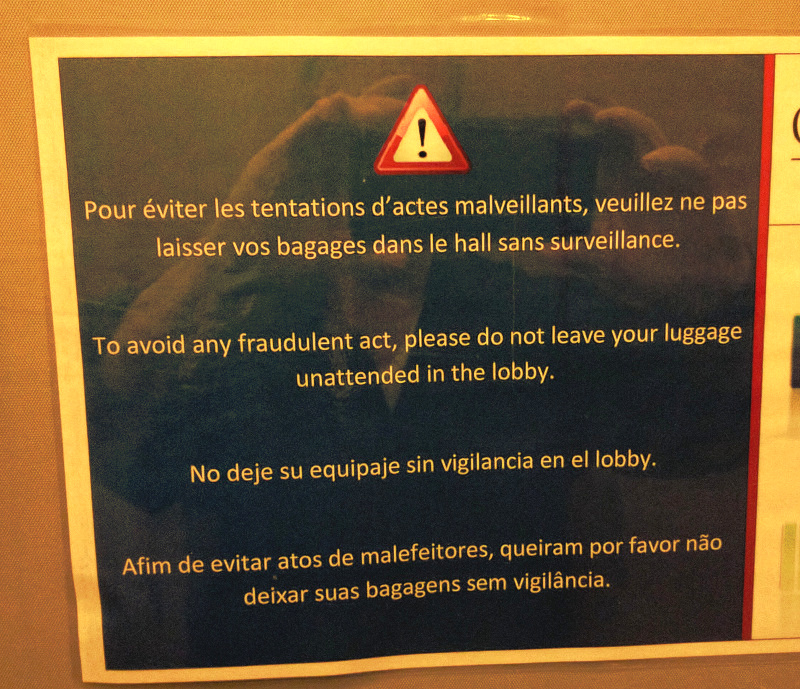 The first thing that caught my attention about this sign was the choice of languages involved: after French, we get English, Spanish, and Portuguese. No German. And no Chinese, although there were plenty of Chinese-speaking people staying in the hotel.
And then there's the variation in content. The Spanish version is the plainest and most straightforward:
No deje su equipaje sin vigilancia en el lobby.
"Don't leave your luggage unattended in the lobby."
The French version, which was presumably the original, adds a (rather oddly worded) introductory clause of justification, and softens the command with "veuillez":
Pour éviter les tentations d'actes malveillants, veuillez ne pas laisser vos bagages dans le hall sans surveillance.
"To avoid [literally] the temptations of malicious acts, please don't leave your luggage unattended in the lobby."
Does this difference mean that Spaniards are more plain-spoken and less polite than French people are? Or at least that French signage is typically more flowery? I doubt it — presumably it just means that the Spanish translator who was handed this task at the translation bureau decided to go to the heart of the matter.
The English version follows the French fairly closely, except that it leaves out the temptations and just asks us to avoid "any fraudulent acts":
T0 avoid any fraudulent act, please do not leave your luggage unattended in the lobby.
The French "actes malveillants" is an odd way to put it, since as far as I can tell, malveillant just means "malicious" — thus Larousse gives the glosses
Qui est animé de mauvais sentiments à l'égard d'autrui : Un esprit malveillant.
Qui dénote la volonté de nuire : L'intention malveillante a été prouvée.
But the people who steal luggage from hotel lobbies are presumably not mainly motivated by bad feelings for others, or by the intention of causing harm, but rather by the desire to get valuables they can exchange for money. The English version "fraudulent acts" is also a bit odd, since the core meaning of fraud has to do with deceptive interaction (M-W defines fraudulent as "done to trick someone for the purpose of getting something valuable"), whereas stealing unattended luggage is not so much fraud as just plain theft.
The Portuguese translation is more accurate in this respect:
Afim de evitar atos de malfeitores, queiram por favor não deixar suas bagagens sem vigilância.
"To avoid [literally] acts of criminals, please don't leave your luggage unattended."
This is way more discussion than this simple sign really warrants — all of the translations make it clear enough that you shouldn't leave your stuff unattended. But I've often idly noticed the odd inconsistencies among multiple translations, and after seeing this particular set of subtly different versions several times a day for a week, I decided to take a picture and share it with you.
---