« previous post | next post »
Prescriptive rules are often the result of someone's idiosyncratic attempt to apply logic to a half-understood question of linguistic analysis. In promoting his new book Strictly English, Simon Heffer recently provided us with two examples ("English grammar: Not for debate",  9/11/2010, and "Mr. Heffer huffs again", 9/12/2010).
Such exercises are sometimes motivated by a genuine change in the language, which brings some particular question to the would-be logician's attention.  Thus Ben Zimmer pointed out ("Further 'warning'", 9/12/2010) that Mr. Heffer's worry about intransitive warn correlates with a century-long trend of increasing use, originating in the U.S. and spreading to the U.K.
But in some cases, prescriptive confusion has reigned for centuries on both sides of the Atlantic, because usage is mixed and the idiosyncratic logic of self-appointed experts has pointed in different directions. In this morning's Breakfast Experiment™, I planned to discuss one such example and present some historical evidence. But as often happens, the facts turned out to be more interesting than I expected.
Here's the entry for possessive with gerund in the wonderful Merriam-Webster Dictionary of English Usage, courtesy of Google Books:
As the entry points out, for the past few hundred years, people have sometimes written things like "in spite of the book being out of print for many years", and sometimes things like "in spite of the company's not having any intention of issuing a new edition". In fact, the same person may use both forms in the same document — those two examples both come from a single letter written in 1939.
And MWDEU also points out that
From the middle of the 18th century to the present time, […] grammarians and other commentators have been baffled by the construction. They cannot parse it, they cannot explain it, they cannot decide whether the possessive is correct or not.
(Some of) MWDEU's conclusions:
This construction, both with and without the possessive, has been used in writing for about 300 years. Both forms have been used by standard authors. Both forms have been called incorrect, but neither is. Those observers who have examined real examples have reached the following general conclusions: 1. A personal pronoun before the gerund tends to be a possessive pronoun in writing […] 2. The accusative pronoun is used when it is meant to be emphasized. 3. In speech the possessive pronoun may not predominate, but available evidence is inconclusive.
So I thought this would be a good example of temporally stable variation, with a wealth of relevant language-internal factors — and some  external factors, including formality, which in turn would be likely to correlate in the usual way with sex, social class, educational level, and so on.
However, my initial explorations turned up some evidence that this linguistic choice may not be so temporally stable after all. It seems to be a case where writing and speech are very different, where writing has been moving fairly fast in the direction of speech for the past half-century or so, and where spoken norms themselves may be moving in the same direction. I'm not sure about all this, but I'll show you the evidence that emerged during this morning's investigations.
In order to be able to get counts from simple text-string searches, without having to write a clever analysis program or judge individual examples by hand, I decided to start with a single gerund-participle (having) and four pronouns (me|him|us|them vs. my|his|our|their).  This avoided the problems of e.g. "(every fiber of) my being" or "(is) it having (any effect?)" — inspection of sample convinced me that the search results were probably pure enough to be useful without further processing.
My data came from Mark Davies' Corpus of Historical American English (COHA), from his Corpus of Contemporary American English (COCA),  and from LDC Online's conversational English collections. COHA has decade-by-decade material from 1810 to 2000; COCA breaks the last 20 years of this material down by half-decade; and the LDC's CTS material includes one collection from 1991 (Switchboard) and another from 2003 (Fisher).
(There are plenty of problems lurking in all of this material — despite Mark's best efforts, the mix of types of material in  COHA obviously changes over time; the demographic mix of speakers in Switchboard and Fisher is somewhat different; other pronouns and other verbs have somewhat different behavior; etc., etc.  Still…)
Here are the results expressed in a single graph: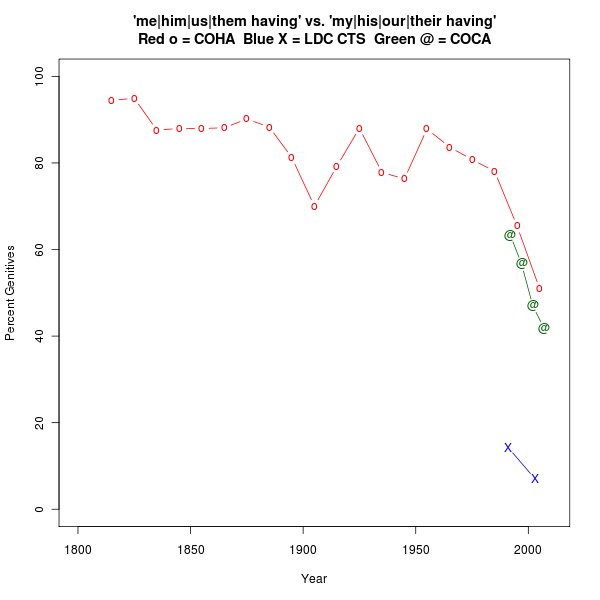 The R script that generated this plot is here — you can get the specific numbers from it.
Some tentative conclusions:
The difference between writing and speech is very large.
Since about 1950, writing has apparently been moving in the direction of speech.
There's some indication that spoken norms may also be changing, in the same anti-genitive direction.
It's possible that there was a change in the anti-genitive direction in the late 19th century, perhaps held up by prescriptive forces (?).
I think that this is suggestive enough to warrant further investigation, on a scale not feasible during a single breakfast period. (In particular, it would be important to verify that the apparent trend in the COHA/COCA numbers exists independent of the gradually increasing proportion of material from transcripts and the like.)
These issues are discussed in CGEL on p. 1192, where it's again noted that "Genitives are more likely to occur in formal than in informal style", and that
Modern usage manuals generally do not condemn non-genitives altogether (as Fowler did in early work), though they vary in their tolerance of them, the more conservative ones advocating a genitive except where it sounds awkward, stilted, or pedantic […]
Given the apparently rapid change over the past half-century, I'm surprised that this question has not generated more viewing with alarm and drawing of lines in the sand.
[Note: one piece of evidence in favor of continued stable variation is provided by the TIme Magazine Corpus. The overall numbers for this pattern are small — 8 to 19 total hits per decade — but such as they are, the proportions don't seem to have changed much since the 1920s: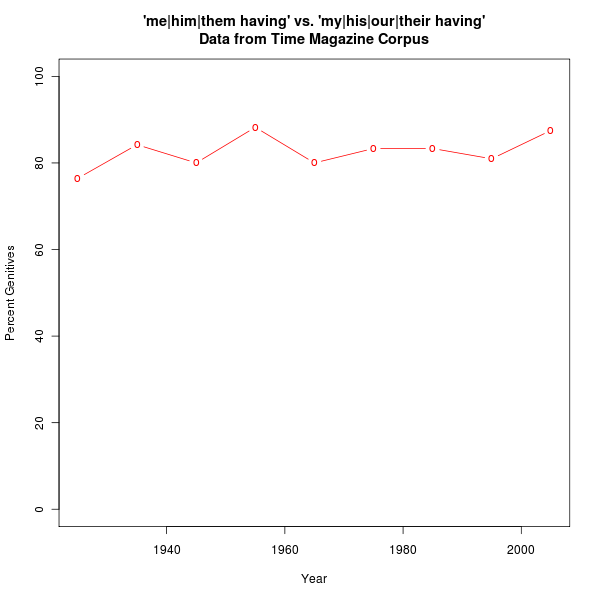 R script here.]
[Update — Ian Preston points out that Mr. Heffer has in fact spoken up, Canute-like, against the tide of change in this case.]
---