« previous post | next post »
Today's xkcd, headlined "Intervocalic Fortition":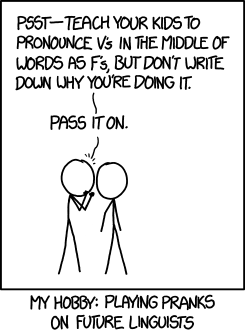 Mouseover title: "These pranks happen all the time. English doesn't allow one-syllable words to end in a lax vowel, so writers on The Simpsons decided to mess with future linguists by introducing the word 'meh.'"
For the truth about meh, see "Three scenes in the life of 'meh'", 2/26/2012. Of course there are other and older exceptions to English final-vowel phonotactics, including duh, which J.E. Lighter's Historical Dictionary of American Slang traces back to a 1943 Merrie Melodies cartoon.
The scholarly literature on "intervocalic fortition" specifically is slim, so far. But there's a distinguished tradition of research on the broader topic of phonological changes that might look like linguistic pranks , starting with Emmon Bach and Robert Harms, "How do languages get crazy rules", Linguistic change and generative theory 1972; and continuing with Staffan Hellberg, "Unnatural Phonology", Journal of Linguistics 1978; Stephen Anderson, "Why phonology isn't 'natural'", Linguistic Inquiry 1981; and so on.
Yesterday's xkcd strip also centers on a linguistic prank, though at a different level of linguistic analysis: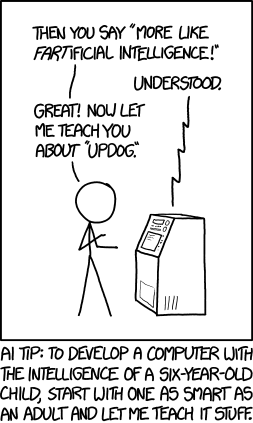 Mouseover title: "Lambda calculus? More like SHAMbda calculus, amirite?"
---