« previous post | next post »
John Oliver on Last Week Tonight recently noted that "Brexit sounds like a shitty granola bar you buy at the airport":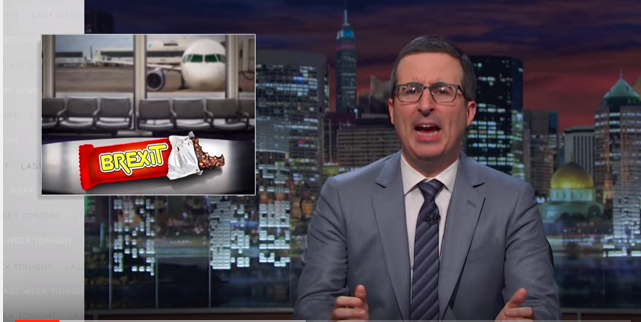 He also presented a suitably British version of the EU's "Ode to Joy" anthem:
But what most interested me about the segment was a clip of various American broadcasters pronouncing Brexit uniformly as ['brɛg.zɪt]:
This took me aback at first, because I've always pronounced it (in my head, I don't think I've ever said it out loud) as ['brɛk.sɪt], as John Oliver does:
Aside from showing that I don't watch TV news much, this suggests that I've modeled my mental pronunciation of Brexit on words like saxon, where I have [ks] for "x", rather than on its portmanteau source exit, which I pronounce like many Americans as ['ɛg.zɪt], rather than like most Britishes as ['ɛk.sɪt].
I might also have been influenced by memories of the sound of Grexit, where influence from the 'k' in Greek might have helped promote ['grɛk.sɪt] rather than ['grɛg.zɪt].
But ['brɛg.zɪt] sounds much more like a real exit, at least to American ears.
---