« previous post | next post »
Michael Meng, China curator at the Yale University Library, discovered several rare books in Yale's Medical Historical Library that provide important evidence for the development of phoneticization of Chinese characters in the transcription of country names and personal names of foreigners.
The books are by Thomas Staunton (1781-1859), son of George Staunton (1737-1801), who was George Macartney's (1737-1806) right-hand man on the famous first British diplomatic mission to China, referred to as the Macartney Embassy or Macartney Mission (1792-1794).
Thomas was only 12 years old in 1792 when he accompanied his father on the Macartney Mission. Already before the trip, Thomas had begun to learn Chinese with the teacher, writer, and statesman, Sir John Barrow, 1st Baronet (1764-1848), so he was made Page to Lord Macartney on the Mission, during which period he continued to make progress in the study of Chinese. In 1797, he enrolled for two terms at Trinity College, Cambridge.
Important additional information about early British Chinese language specialists may be found in this post: "Character amnesia in 1793-1794" (4/24/14).
In 1798, Thomas was appointed as a writer in the British East India Company's factory at Canton (now called Guangzhou) and later became its chief. All of this enabled him to become increasingly proficient in Chinese.
In 1805 Thomas translated a work of Dr George Pearson into Chinese, thereby introducing vaccination into China. Five years later he published a translation of a significant part of the Chinese legal code.
[from the Wikipedia article]
Here are some pages from the books to which reference was made at the beginning of this post (click to embiggen).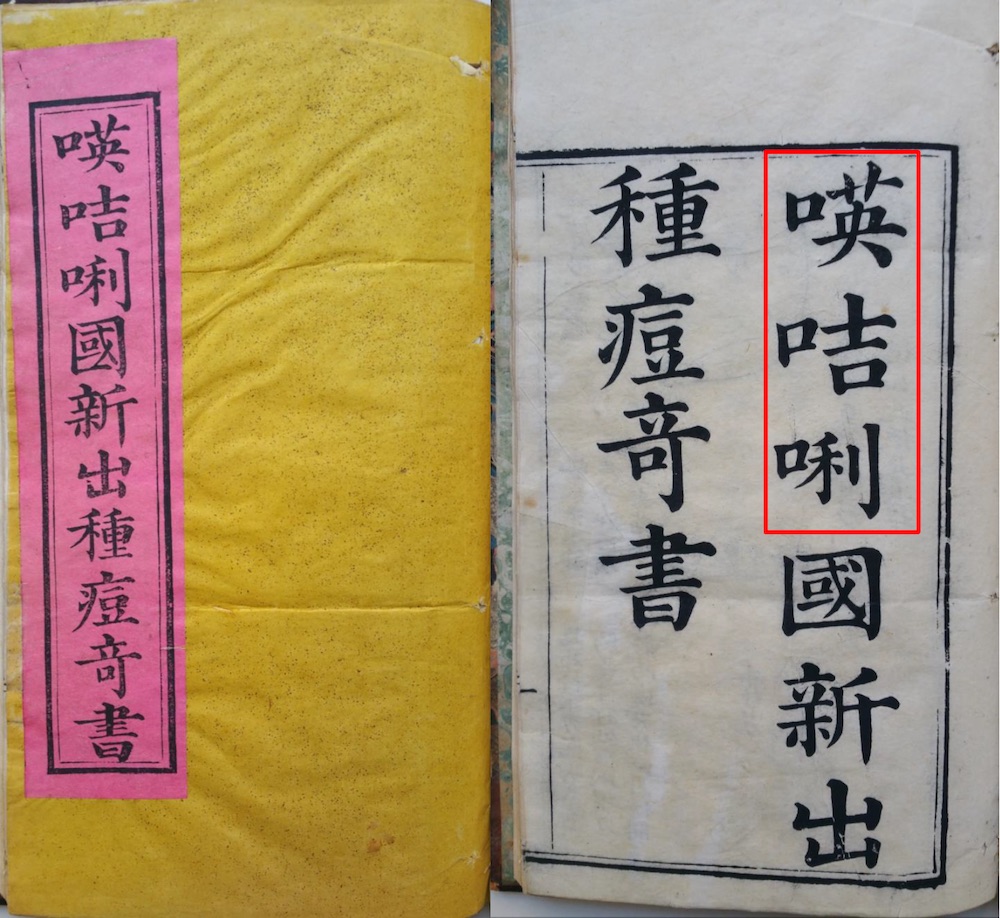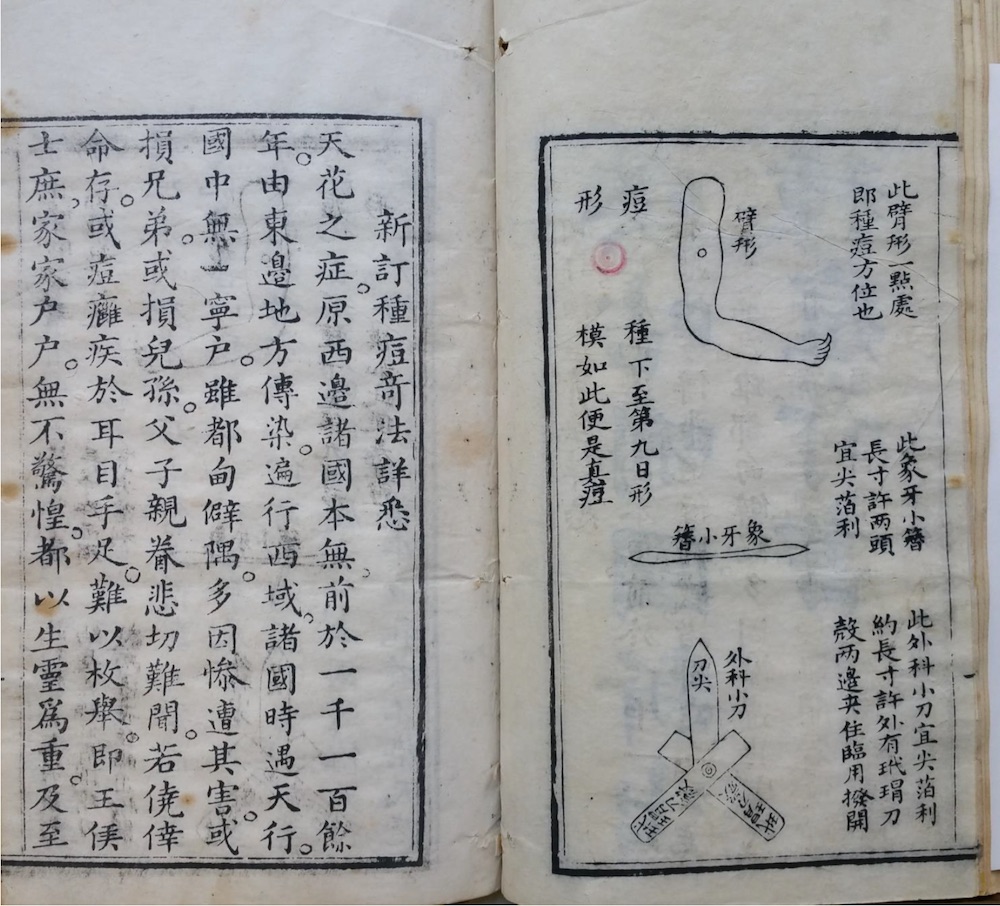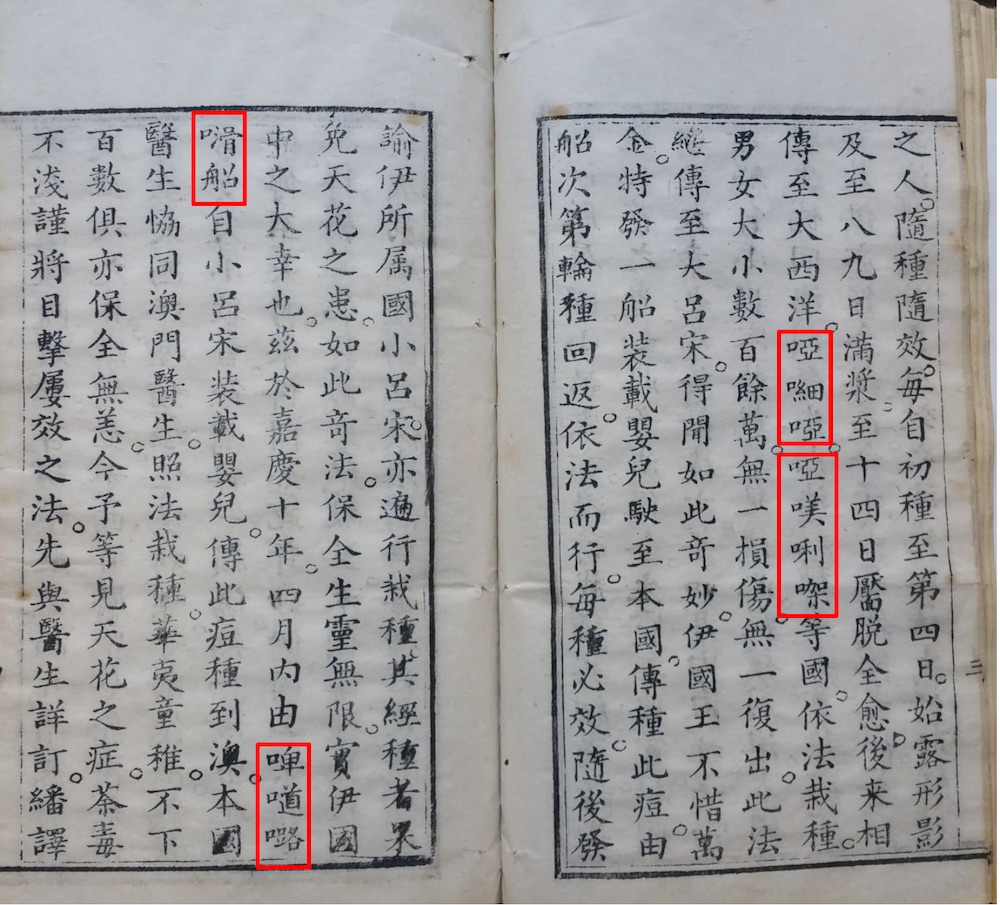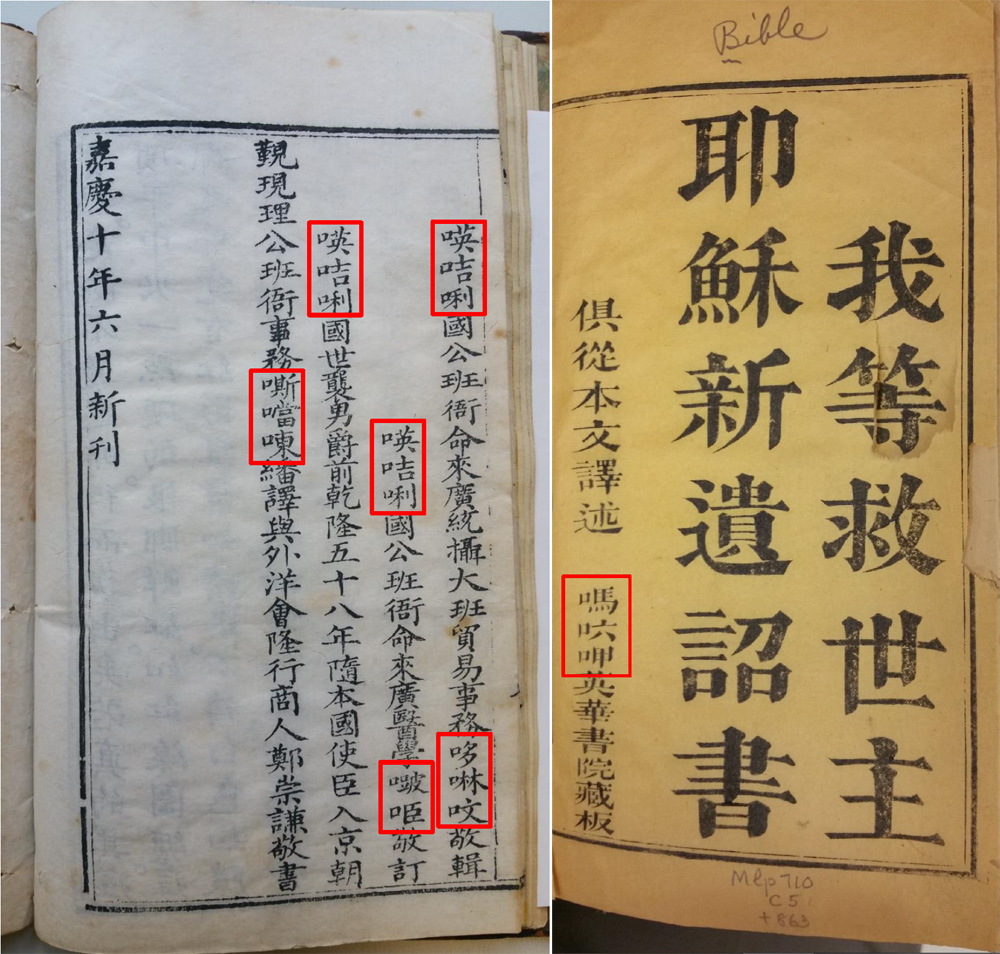 These books offer interesting evidence of putting the mouth radical before country names and personal names of foreigners ca. 1800. Here are some of the names inside of the red rectangles in the photographs that are rendered in this fashion (imagine that each of the characters is prefixed with a little mouth radical):
Mǎliùjiǎ 马六甲 ("Malacca")
Yīngjílì 英吉利 ("English")
Yàxìyà 亞細亞 ("Asia")
Yàměilìjiā 亞美利架 ("America")
I omit many of the other transcriptions inside of the red rectangles, but I thought it would be interesting to show how Staunton transcribed his own surname (the last item on the final page among these photographs):
Sīdāngdōng 斯當東 (all first tones!)
The title of the book introducing vaccination to China is:
Yīngjílìguó xīn chū zhòngdòu qíshū 英吉利國新出種痘奇書
(lit., "English Country Newly Published Marvelous Book on Planting Smallpox", i.e., "Newly Published Extraordinary Book on Smallpox Vaccination from England")
The practice of affixing mouth radicals to Chinese characters to indicate that they are being used for transcriptional purposes began already with the writing down of the sacred sounds of Sanskrit. In the 15th century, it was being used for the transcription of the Sanskritic Buddho-Daoist deity name Nézhā / Nuózhà 哪吒 ("Naṭa[kuvera]). In this case, the mouth radicals were added later to a transcriptional name that had been coined centuries before.
One of the most common uses of mouth radicals to designate transcriptional syllables — though it is by no means de rigueur — is for dhāraṇī ("ritual speech") and mantra ("a sacred utterance, a numinous sound, a syllable, word or phonemes, or group of words in Sanskrit believed by practitioners to have psychological and spiritual powers. A mantra may or may not have syntactic structure or literal meaning."), especially as employed in esoteric Buddhism. This goes back essentially to the beginning of Buddhism in China as an organized body of doctrine, practice, and systematic translation of Indian texts into Chinese. See:
Paul Harrison and W. South Coblin, "The Oldest Buddhist Incantation in Chinese? A Preliminary Study of the Chinese Transcriptions of the Mantra in the Druma-kinnara-rāja-paripṛcchā-sūtra", Sino-Platonic Papers, 222 (March, 2012), John R. McRae and Jan Nattier, eds., Buddhism Across Boundaries: The Interplay of Indian, Chinese, and Central Asian Source Materials, pp. 63-85.
Characters such as the following were already devised by around the 6th century for exclusive use in transcription:
luō 囉
mó 嚩
lí 口+梨
nǎ 哪
lǐ 哩
The addition of a mouth radical to Chinese characters used for the transcription of Cantonese syllables is still a very common practice today.
I personally think that it would be preferable to use some other mark than the mouth radical to indicate that a character is being used for transcriptional purposes, since there are hundreds of characters with mouth radicals that do have specific semantic content or emotive effect. Or a group of special characters could be created, one for each possible syllable in the language, that would be reserved solely for transcription, something like a large kana syllabary. Ideally, unlike luō 囉 and mó 嚩, they would have a minimum number of strokes. Still yet, a set of purely phonetic symbols could be employed; to a certain extent this is already happening with the Mandarin Phonetic Symbols (bopomofo, zhuyin fuhao) and the alphabet.
[h.t. Valerie Hansen; thanks to Ronald Davidson and Seishi Karashima]
---