« previous post | next post »
From Florent Moncomble, a language academic in France:
My father came back recently from a trip to Japan and was intrigued by the following notice, which he found in his Tokyo hotel room one day. He gets by in English but could not make out its meaning and was wondering whether the fault lay with him or with the message — obviously the latter is the case. My interpretation is that this sign is left by the cleaning staff to apologise whenever they are unsure whether or not to dispose of (half-)used equipment such as towels and toiletries, and leave them in the room.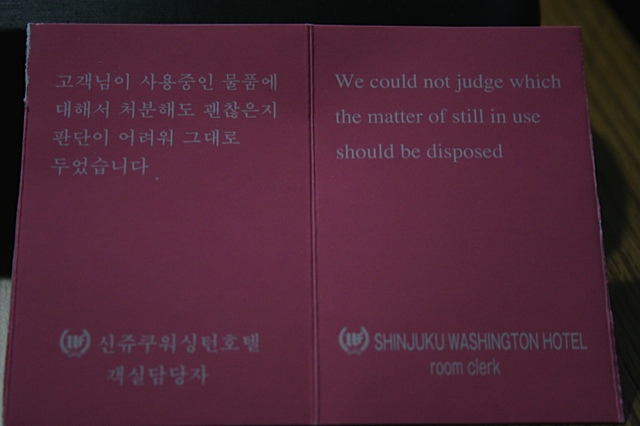 The Korean version does not sound as strained and fractured as the English one, although it does sound a little off. It literally means, "About the items (hotel amenities) that the customer is using, we left them as they were because it was difficult to decide if it would be okay to dispose of or not".  Perhaps a better interpretation would be:  "We left (half-)used hotel amenities as they were (in the room) as we were unsure whether or not to dispose of them."
kokayknimi sayongcwungin mwulphwumey tayhayse chepwunhayto kwaynchanhunci phantani elyewe kutaylo twuesssupnita    (Yale romanization)
고객님이 사용중인 물품에 대해서 처분해도 괜찮은지 판단이 어려워 그대로 두었습니다.
Usage notes by Haewon Cho:
At first, I thought it was a little off because it uses big words such as 처분(處分)하다 (chepwunhata, meaning: "dispose of"), which is a  formal version of 버리다 (pelita, meaning: "throw away"). On top of that, the Korean translation does not use the proper honorifics. The sign would sound a little better if it were rewritten as "고객님께서 (께서 kyese, the honorific subject particle, is used instead of 이 i, the regular subject particle) 사용중이신 (sayongcwungisin, 시 si, the honorific suffix, is added) 물품 (kokayknimkkeyse sayongcwungisin mwulphwum, the items that the customer is using)."  In conclusion, the translated version does not sound too weird and delivers the intended message, but it still requires fine tuning to sound more natural to native Korean speakers.
This is undoubtedly not what the original Japanese might have been (particularly in the second clause), but it certainly would have given the English and Korean translators less trouble than whatever circuitous wording they were working from:
Goshiyō-chū no mono ga arimashitara, seisō-gakari ni oshirase kudasai.
ご使用中の物がありましたら、清掃係りにお知らせください。
Please inform the cleaning staff if you have things still in use.  (Thank you.)
After I had already finished the first draft of this post and was about to put it online, I found the following suggestion for a better English wording in the Sagan Speak / Alphabendi Newsletter (2/25/11):
Unfortunately we could  not recognize whether this object is still in use or not, and left it undisposed. We apologize for any inconvenience we may have caused.
Think how many thousands of people have been mystified by the English wording since at least 2011!
[Thanks to Florent Moncomble, Hiroko Kimura, Cecilia Segawa Seigle, Miki Morita, and Nathan Hopson]
---