« previous post | next post »
The old oppositions between girls and boys — sugar and spice vs. snips and snails — continue to be reinforced and extended in the popular press by sexual pseudoscience. For example, Leonard Sax's false claims about boys' inferior hearing are front and center again in Paula Spencer, "Is it harder to raise boys or girls?", CNN.com/health, 6/17/2008:
Why don't boys seem to listen? Turns out their hearing is not as good as girls' right from birth, and this difference only gets greater as kids get older. Girls' hearing is more sensitive in the frequency range critical to speech discrimination, and the verbal centers in their brains develop more quickly. That means a girl is likely to respond better to discipline strategies such as praise or warnings like "Don't do that" or "Use your words."
I won't go over the scientific issues about hearing in detail, but you can get the details and the citations from these earlier posts:
"Leonard Sax on hearing", 8/22/2006
"Girls and boys and classroom noise", 9/9/2006
"Liberman on Sax on Liberman on Sax on hearing", 5/15/2008
Let me summarize the evidence in one simple sentence: There is no functionally significant difference between boys and girls in auditory sensitivity.
As for the business about "verbal centers in their brains", if we focus on vocabulary, it's true that girls are on average quite far ahead at 18 months. But they are less far ahead by 24 months — and they are actually behind, on average, during the age range 6-10 years, according to several studies cited in the last of the posts just listed.
And it's crucial to keep in mind that at every age, individual differences among boys and among girls are large compared to the average differences between the groups. (Sex differences in verbal development are discussed at greater length in "The main job of the girl brain", 9/2/2006.)
From Paula Spencer's CNN article again:
From birth, a girl baby tends to be more interested in looking at colors and textures, like those on the human face, while a boy baby is drawn more to movement, like a whirling mobile, says Dr. Sax. (These differences play out in the way kids draw: Girls tend to use a rainbow of hues to draw nouns, while boys lean toward blue, black, and silver for their more verblike pictures of vehicles crashing and wars.)
In a nutshell, girls are rigged to be people-oriented, boys to be action-oriented. Because girls study faces so intently, they're better at reading nonverbal signals, such as expression and tone of voice. Boys not only learn to talk later than girls and use more limited vocabularies, they also have more trouble connecting feelings with words.
For the business about connecting feelings with words, see "David Brooks, cognitive neuroscientist", 6/12/2006; and "Are men emotional children?", 6/24/2006.
The assertion that "Girls tend to use a rainbow of hues to draw nouns, while boys lean toward blue, black, and silver for their more verblike pictures" comes from pp. 21-22 of Leonard Sax's book Why Gender Matters (trade paperback edition, 2006), where he discusses the implications of his claim that male and female retinas are different in major ways:
Suppose you give crayons and a blank sheet of paper to young girls and young boys. Let them draw whatever they like. You'll find that girls will prefer colors like red, orange, green, and beige, because these are the colors that P cells are prewired to be most sensitive to. Boys prefer to simulate motion in their pictures. Boys prefer colors such as black, gray, silver, and blue because that's the way M cells are wired.
For a discussion of the  retinal physiology that Dr. Sax has cited in support of these claims, see "Of rats and (wo)men", 8/19/2006, and "Retinal sex and sexual rhetoric", 5/20/2008. In a nutshell: Leonard Sax's claims about large human sex differences in the distribution of retinal cell types are not supported by the papers that he cites, and are apparently false.
I haven't previously discussed Dr. Sax's claims about childhood sex differences in the ability to read nonverbal signals, and infant sex differences in interest in mobiles and the like. On pp. 18-19 of Why Gender Matters (trade paperback edition, 2006), he writes:
Most girls and women interpret facial expressions better than most boys and men can.20 Researchers at Cambridge University wondered whether female superiority in understanding facial expression was innate or whether it developed as a result of social factors … These researchers decided to study newborn babies on the day they were born.
Their plan was to give babies a choice between looking at a simple dangling mobine or at a young woman's face […] The boy babies were much more interested in the mobile than in the young woman's face. The girl babies were more likely to look at the face. […] The researchers concluded that they had proven "beyond reasonable doubt" that sex differences in social interest "are, in part, biological in origin."21
His citations for these claims are:
20: Judith Hall, Nonverbal Sex Differences, 1985; Erin McClure, "A Meta-Analytic Review of Sex Differences in Facial Expression Processing and Their Development in Infants, Children, and Adolescents", Psychological Bulletin 126:424-53, 2000.
21: Jennifer Connellan, Simon Baron-Cohen, et al., "Sex Differences in Human Neonatal Social Perception", Infant Behavior & Development, 23:113-18, 2000.
Let's examine Erin McClure's meta-analysis of facial expression processing, and leave Connellan et al. on infant mobile-watching for another morning.
Executive summary of McClure: From dozens of studies, she obtained an overall estimated effect size for tests of "FEP" (Facial Expression Processing) of d=0.13, meaning that the difference between group averages was about 13% of the within-group standard deviation. As she explains, this "suggests that on a typical measure of FEP, 53% of girls should perform above average, compared with only 46% of boys". A "reliability-corrected" estimate of the effect size was d=0.16, "indicating that 54% of girls should perform above average and 46% of boys should do so".
(For some discussion of what an "effect size" is, and what distributions for effect sizes in the 0.13-0.20 range look like, see "Gabby guys: the effect size".)
In any case, these small effect sizes are typical of the literature on sex differences in perceptual and cognitive abilities. I'll comment only that such effect sizes are smaller than those often found for socio-economic and ethnic divisions. Thus Martha J. Farah, et al., ("Childhood poverty: Specific associations with neurocognitive development", Brain Research 1110(1) 166-174, 2006), found an effect size of about 0.95 for differences on vocabulary and sentence-understanding tests between between middle SES and low SES African-American girls aged 10-13. (And with respect to Dr. Sax's ideas about retinal physiology, Huynh et al. 2006 found that the difference in average retinal thickness between white and asian schoolchildren was twice as great, in absolute magnitude as well as in effect size, as the difference between boys and girls — see the tables at the end of "Retinal sex and sexual rhetoric"  for the details.)
There are a lot of interesting facts and ideas in McClure's paper — especially the enormous range of effect sizes actually found in the studies that she surveyed, ranging from -0.59 (a fairly large advantage for boys) to 0.92. But I'll leave it there for now, and close with a brief semantic interlude: did Leonard Sax tell the truth when he wrote "Most girls and women interpret facial expressions better than most boys and men can"?
This obviously depends on what most means.
The American Heritage Dictionary says that most means "In the greatest number of instances: Most fish have fins." This is not a lot of help, as it just refers us to the problem of what "in the greatest number of instances" means.
Merriam-Webster says says that most means "the majority of <most people>". This provides a clear answer: if "most" just means "greater than 50%", then Sax's assertion is validated by McClure's paper, which tells us that on a given FEP test, we should expect about 53% of the girls to be above average, compared to about 47% of the boys.
But I wonder if this answer is the right one. It seems to me that people often take most to mean a large majority, large enough to be in some sense characteristic of the set quantified over, and not just barely more than half. And this helps explain why Paula Spencer, the author of the CNN article, took Sax to be making a much more categorical statement. Her version uses a plain plural to characterize the group difference: "Because girls study faces so intently, they're better at reading nonverbal signals, such as expression and tone of voice."
Indeed, in Why Gender Matters, Dr. Sax also usually dispenses with quantifiers of any kind, and reverts to plurals — for example:
p. 17: "… newborn baby girls really do hear better than newborn baby boys."
p. 19: "… girls are born prewired to be interested in faces while boys are prewired to be more interested in moving objects. The reason for that difference has to do with sex differences in the anatomy of the eye."
p. 23: "Girls draw nouns, boys draw verbs."
p. 25: "Let's look at another difference in how girls' and boys' brains work: geometry and navigation. Researchers have found that females and males use fundamentally different strategies for those tasks."
There's some experimental evidence that most people mostly interpret most in a way that lends itself to an easy transition to the generic plural. One piece of the puzzle: Tim Hunter, Justin Halberda, Jeff Lidz & Paul Pietroski, "Beyond Truth Conditions: The semantics of 'most'", SALT 18. They examined people's responses to statements like "Most of the dots are yellow", for displays in which the proportions of yellow and blue dots ranged between 1:1 and 2:1. They concluded that people interpret most in terms of a comparison of cardinalities mediated by the "Approximate Number System" (ANS), as discussed in Lisa Feigenson, Stanislas Dehaene and Elizabeth Spelke, "Core systems of number", Trends in Cognitive Sciences, 8(7): 307-314, 2004. Thus "participants' success rate … decreased as the ratio of the number of yellow dots to the number of nonyellow dots approached 1, closely matching the psychophysical function independently identified for the ANS".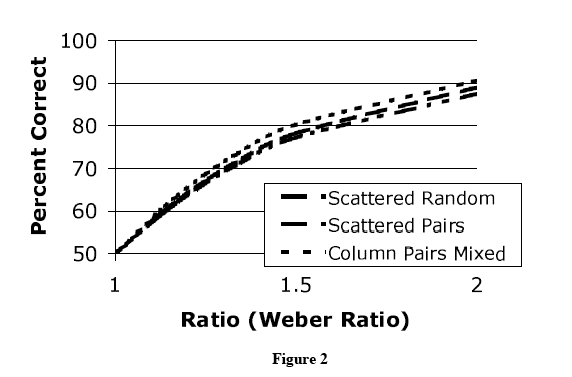 According to Feigenson et al., there are  two core cognitive systems dealing with numbers: an approximate representation of numerical magnitude, and a precise representation of distinct individuals. Perhaps linguistic equivocation between these systems — as well as the inadequacy of either system to express even simple propositions about statistical distributions — helps to explain the general tendency to derive propositions about generic group characteristics from propositions about differences between group averages, even when these difference are small relative to within-group variation.
For some examples of this tendency in action, see e.g. last fall's posts on the gender happiness gap. [Update: or this one.]
---