« previous post | next post »
Is this the future of English pronouns? Ada Palmer's Too Like the Lightning takes place in a world where he/she is as quaintly obsolete as thee/thou. From the book's opening: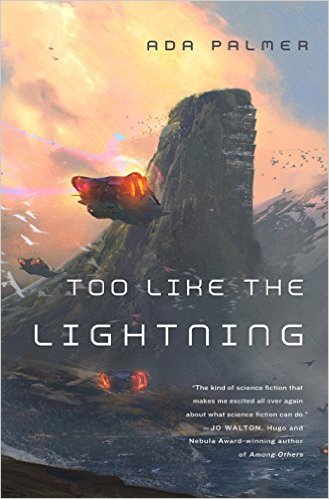 You will criticize me, reader, for writing in a style six hundred years removed from the events I describe, but you came to me for explanation of those days of transformation which left your world the world it is, and since it was the philosophy of the Eighteenth Century, heavy with optimism and ambition, whose abrupt revival birthed the recent revolution, so it is only in the language of the Enlightenment, rich with opinion and sentiment, that those days can be described. You must forgive me my 'thee's and 'thou's and 'he's and 'she's, my lack of modern words and modern objectivity. It will be hard at first, but whether you are my contemporary still awed by the new order, or an historian gazing back at my Twenty-Fifth Century as remotely as I gaze back on the Eighteenth, you will find yourself more fluent in the language of the past than you imagined; we all are.
A bit later, constrained by that narrative device to use they in dialogue and quotation, but he/she in narrative description, the narrator faux-apologizes again:
Does it distress you, reader, how I remind you of their sexes in each sentence? 'Hers' and 'his'? Does it make you see them naked in each other's arms, and fill even this plain scene with wanton sensuality? Linguists will tell you the ancients were less sensitive to gendered language than we are, that we react to it because it's rare, but that in ages that heard 'he' and 'she' in every sentence they grew stale, as the glimpse of an ankle holds no sensuality when skirts grow short. I don't believe it. I think gendered language was every bit as sensual to our predecessors as it is to us, but they admitted the place of sex in every thought and gesture, while our prudish era, hiding behind the neutered 'they,' pretends that we do not assume any two people who lock eyes may have fornicated in their minds if not their flesh. You protest: My mind is not as dirty as thine, Mycroft. My distress is at the strangeness of applying 'he' and 'she' to thy 2450s, where they have no place. Would that you were right, good reader. Would that 'he' and 'she' and their electric power were unknown in my day. Alas, it is from these very words that the transformation came which I am commanded to describe, so I must use them to describe it. I am sorry, reader. I cannot offer wine without the poison of the alcohol within.
Third-person singular animate pronouns are not the only vocabulary items for which the narrator apologizes:
Danaë came to her husband's side. Do not chide me, reader, for using the gendered 'husband' when she stands so close, sheltering against him as she gazes up into his face with her brilliant, pleading blue eyes edged by maternal fear. Our age's neutral 'partner' rings false when her every touch and gesture makes such intentional display of 'wife.'
And gendered clothing is also an issue:
I cursed myself inside, although, looking back, I forgive myself now. She was irresistible. Remember, reader, though I use archaic words, I am not from those barbaric centuries when men and women wore their gender like a cockerel's plumes, advertising sex with every suit and skirt. Growing up, I saw gendered costume on the stage, in art, pornography, but to see it in real life is unbearably different: her shallow breaths within constricted ribs, her round French breasts threatening to overflow the low Japanese silks. Here, as Andō wraps his arm around her waist, the costume makes me see them in my mind: the husband wrenching the kimono back to bare the honey-wet vagina. You see now, reader, why, to tell this history, I must say 'he' and 'she.' Danaë is a thing long thought extinct, reviving out of time ancient venoms perfected by a hundred generations of gendered culture. We around her— from my weak self to the gaping guards— grew up with no inoculation against this pox we thought our ancestors had vanquished. Movies and histories gave us just enough exposure to learn these ancient cues, weakness without resistance, and we can no more unlearn them than you could unlearn your alphabet when facing an unwelcome word.
There's more, of course — in particular, the narrator apologizes again for not using he/she to express affective interpersonal reactions rather than biological sex:
I realize, reader, that I should apologize for my confusing language, since if my 'he' and 'she' mean anything then certainly this sweet and gentle Cousin in her flowing wrap should be 'she.' In this case, alas, I am commanded by an outside power to give Carlyle the masculine, to remind you that this long-lost scion is a prince, not princess, a fact which matters in the eyes of some, and of the law. But I shall do my best to remind you often that a Cousin's maternal heart beats beneath Carlyle's broad chest, and I promise, reader, to be consistent in making other Cousins 'she.'
Or the opposite:
Innocent reader, I take comfort in your confusion, for it is a sign of healthy days if you are illiterate in the signal-flags of segregation humanity has worked so hard to leave behind. In certain centuries these high, tight boots, these pleats and ponytail might indeed have coded female, but I warned you, reader, that it was the Eighteenth Century which forced this change upon us, and here it stands before you. You saw already Princesse Danaë, with the costume of Edo period Japan, and its comportment, too:  modest, coquettish, fragile, and proficient at making the stronger sex risk death for her. Can you not recognize the male of that species? Though French this time, rather than Japanese. Perhaps you argue that a gentle'man' of that enlightened age is effeminate, his curls and silks, his poetry and dances, and you are right if we apply the standards of a Goth or other proud barbarian. But would you then oblige me to call all such gentlemen 'she'? The Patriarch? George Washington? Rousseau? De Sade? Shall I call the Divine Marquis 'she'? No, good master. To understand what follows, you must anchor yourself in this truth, that, by the standards of the era which sculpted him from childhood, the woman Dominic Seneschal is the boldest and most masculine of men.
But you should read it for yourself — there's also theology, politics, crime,  and flying cars…
---