« previous post | next post »
One of the strangest stories gets one of the strangest headlines in a strange, strange August. The headline is from CBC in Canada, and the story is from the strange state of Florida:
Days from death, Fla. wildlife officials free plastic jar that was stuck on bear cub's head
Free at last, free at last, thank God almighty that plastic jar is free at last! Though the news about the Florida wildlife officials being close to death is alarming, of course. You may find you need some explanations. If you don't, my compliments. But read on if you do.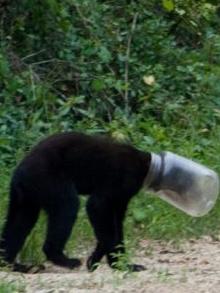 The strangenesses are three. First, the bear. It was (and is still) a juvenile, and it was grubbing around in some trash when it forgot the first rule of trash grubbing. Just as every frat boy knows that the first rule of eating is to never eat anything bigger than your head, the first rule of trash grubbing is: Never put your whole head in something to root around for food unless you know you can get your head out again. The young bear forgot that, and left the trash site with his head tightly encased in a large plastic jar, and no idea about how to get it off. He wandered about with his mother for days like that, totally unable to eat or drink. (His mother did nothing. Some bears just aren't fit to be parents, are they?)
Second (and here, since this is not Wildlife Log it's Language Log, we move into the linguistic realm), the eccentric choice of perspective implied by the choice of argument structure. It is possible to say either We freed the bear's head from the jar that encased it, if that's how you see it, or We freed the jar from the bear's head to which it was attached, for an alternate view. But almost anybody (you scarcely have to be an animal lover) would pick the first, because of a sense that it was the bear that was trapped, not the jar. A question of perspective and sympathy. The headline writer, astonishingly, picked the second type of construction, and wrote about freeing the jar. Go figure.
Third and finally, the dangling predicative adjunct. Who was just days from death? Well, this is a headline, so we have no prior context, so we don't initially know. But we see that someone is days from death, and the comma tells us that this is an adjunct introducing a clause that is almost certainly going to tell us, so we read on, and we hit the main clause subject: Florida wildlife officials. We are all mortal, and some day every Florida wildlife official must prepare to meet the Creator of all wildlife, so it is the most natural thing in the world to take them as the target of predication that we need, and we fill it in: we understand (for a split second) that some Florida wildlife officials were just days from death. So now, what did they do?
And at that point we learn that they freed a plastic jar. Even though they were dying. The story is getting stranger and stranger. Next we learn that the jar was freed from the embarrassing predicament of being stuck on a young bear's head. Still not a lot of sense to any of it. But we read on, and finally we encounter the explanatory sentence: "Biologists say the cub was days away from death because the jar made it impossible to eat or drink." OK, puzzlement over. The cub was just days from death, the jar was on the cub's head, the wildlife officials are fine, they freed the cub from its jar-imprisonment by freeing the jar from its bear-attachment, everything is now clear.
But what an appalling piece of bungled headlinery. Syntactically speaking, the correct noun phrase to pick to get a target of predication for the preposed adjunct is not the subject of the main clause, it's buried as a genitive determiner in a noun phrase inside a relative clause modifying the object of the main clause. That's a bafflingly uncooperative place to put it.
The subeditor who wrote that one ought to have his head trapped in a jar for a few days.
[Hat tip: Roy Hodson.]
---