« previous post | next post »
Robert Fisk, the well-known linguistic paleoconservative,  has been reduced to playing little games with his copy editors in order to create material for his columns ("Our language has a way of turning women into men", The Independent, 8/14/2010):
A week ago, in my front-page story on the Hiroshima commemoration, I planted a little trap for our sub-editors.
I referred to Vita Sackville-West as a "poetess". And sure enough, the sub (or "subess") changed it – as I knew he or she would – to "poet". Aha! Soon as I saw it, I knew I could write this week about the mysterious – not to say mystical – grammar of feminism and political correctness. At least, I guess feminism was the start of it all, for was it not in the Eighties and early Nineties that newspapers started turning feminine nouns into male nouns? This was the age, was it not, when an "actress" became an "actor", when a "priestess" became a "priest" – which does sound more sensible – and when a "conductress" became a "conductor". A policeman and policewoman have turned into "police officers" (even if they are constables).
Mr. Fisk suggests that we "take all this across the channel where – heaven preserve us – the difference between male and female is written into the very grammar of the French language", and claims that
… there's no hesitation in France in calling an actress une actrice (or une comedienne) or to call a woman pilot une aviatrice. In fact, if anything the French are increasing the verbal differentiation between men and women. Recently a female minister wanted to call herself la ministre (it didn't catch on) and at one point it was suggested that if Ségolène Royal became president, she would be Madame la présidente.
I'm not sure what point this cross-channel move is supposed to establish: that epicene occupational terms are against human nature? That the culturally-superior French would have allowed his use of poetess to stand? (Or perhaps, that Robert Fisk still has two thirds of a column to fill up?)
In fact, I'm not sure what direction French culture is taking on the specific issue of what to call female poets. Though poétesse is used, a quick web search also turns up plenty of examples where female writers of verse are called "poètes":
Elisabeth du Baret, poète pour petits et grands (link)
Katie Melua, poète jusqu'aux yeux (link)
Un Romand dévoile une Marilyn secrète et poète (link)
Devant la caméra, le chanteur Florent Vollant et Joséphine Bacon, poète innue et réalisatrice de documentaires, auront des rôles secondaires. (link)
In a 2007 discussion on the WordReference Forum, the question of what to call a female poet was answered by Alexa99 as
Un poète
Une poétesse. ( si vraiment c'est nécéssaire, car c'est horrible )
with Batuni chiming in that "Je suis d'accord avec Alexa99, les feminins en 'esse' sont souvent assez atroces : doctoresse, poétesse…. ogresse", and a moderator pointing to a couple of broader discussions here and here, which suggest that the overall situation with respect to gendered occupational terms in French is complicated, and may be moving in different directions in France and in Quebec.  (FWIW, a couple of years ago, Heidi Harley reported some evidence that the whole French system of linguistic gender may be beginning to dissolve around the edges a bit: "You say feminine, I say masculine, let's call the whole thing off", 2/25/2008).
As for the general issue of gender in Romance-language occupational terms, a post earlier this year reported claims that Italy and Spain are moving in opposite directions ("Ludicrous, even derogatory?", 1/18/2010).
And it occurred to me to wonder what the historical pattern of poetess usage really is. So here's a graph of the ratio, decade by decade, of counts of poetess vs. poet in the Corpus of Historical American English: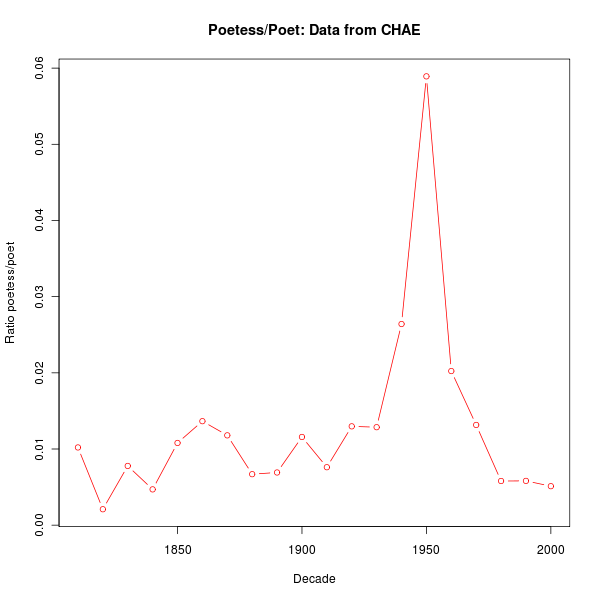 Though this is from American rather than British English sources, it suggests that the Golden Age of Gender Clarity that Mr. Fisk is defending might actually have coincided rather closely with the first, formative decade of his own life.
The OED, in addition to offering a usage note about poetess ("The gender-neutral poet is now often preferred"),  gives some evidence in its citations that some people have been uneasy about the word for more than two centuries:
1748 LADY LUXBOROUGH Let. 28 Apr. in Lett. to W. Shenstone (1775) 21, I am no Poetess; which reproachful name I would avoid, even if I were capable of acquiring it.
1903 Academy 17 Jan. 71/1 Jesse Berridge is a poet, not a poetess, to use a somewhat outmoded word.
Broadening the scope of discussion a bit, I can't resist linking to the most recent Subnormality, especially these panels: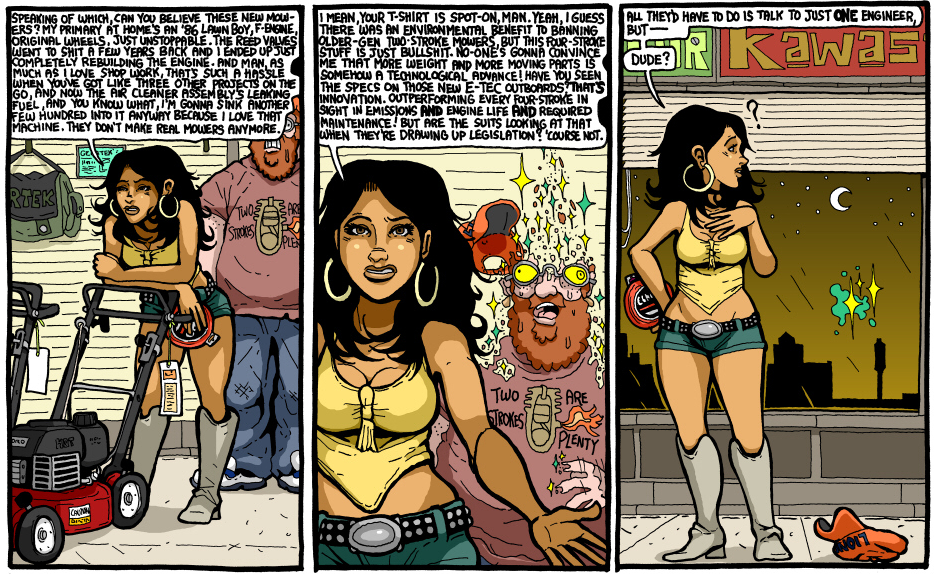 [Hat tip to Stan Carey of Sentence First]
---