« previous post | next post »
A few days ago, mild-mannered editor John E. McIntyre let out his inner @GRAMMARHULK ("Chairman Wednesday", You Don't Say 8/8/2010):
Must stay calm. Must not let little things get under one's skin. Must keep a sense of proportion.
And yet, day after day, journalists everywhere keep turning out sentences in which, in defiance of English syntax, they insist on inserting the day of the week between the subject and the verb. Who tells them to write like this? Yesterday, from Reuters:
SEC Chairman Mary Schapiro Wednesday listed some technical areas that
 might yet need rule changes, including the use of market orders, "stub quotes," price
 collars, and self-help rules used by the dozen U.S. exchanges where today's high-speed trading is done.
And searching the COCA corpus for the sequence weekday-name past-tense-verb reveals that this is indeed a journalismism:

In fact, the instances in other genres are mostly also journalistic — thus breaking down the "spoken" category by source reveals that (at least in this case) we're basically talking about talking heads reading news stories on the air:
Furthermore, the distribution is not at all uniform by type of news:

A frequency of 67 per million is considerable — specifically, it's more than twice the overall frequency in the corpus of the word considerable. A hypothesis to explore would be that Reuters house style is a major culprit.
John asked
Who writes these things, guys in their shirtsleeves with their fedoras pushed back and a cigarette dangling from their lips as they type with two fingers on an Underwood?
Actually, there's a small amount of evidence that the frequency of the WEEKDAY VERBED pattern might be increasing: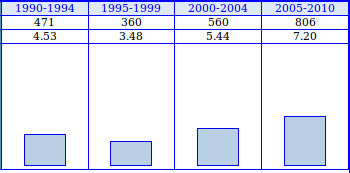 (Though Mark Davies' sample of sources is not guaranteed to be uniform across time, so this may just be that there's a bigger dose of Reuters in the past few years.)
FYI, the COCA pattern to search for is
monday|tuesday|wednesday|thursday|friday|saturday|sunday [vvd]
[Update — and note John's follow-up, "Heresy compounded" 8/14/2010, where he observes
… putting the day of the event in the first sentence, preferably between the subject and verb, is a point on which generations of journalism instructors and assigning editors have malformed malleable young minds.
This is apparently a strong point of doctrine, and defying it openly could lead to one of those disputes like the fourth-century controversy over whether Jesus could be described as homoousios or homoiousios. All the same, if you can get away with it, write for the reader, and write in English, not journalese.
]
---