« previous post | next post »
From xkcd a little while ago: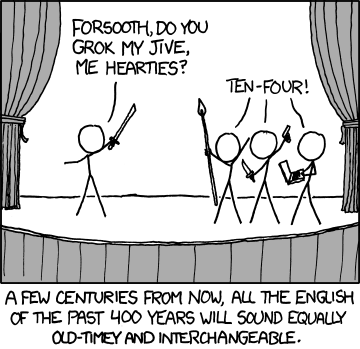 From Terry Gross's interview with David Mitchell ("Mitchell's 'Thousand Autumns' On A Man-Made Island", Fresh Air, 8/5/2010):
MITCHELL: I went wrong twice and had to throw aside about 18 months worth of work at one point. But eventually, by going wrong, I slowly began to work out how I could go right and this historical novel grew out of that.
GROSS: What was one of the mistakes that you made when you went wrong?
MITCHELL: Language, that was the biggest baddest mistake really, Terry. What language are these people speaking? If you try to get it right, if you try to get authentic 18th century speech you end up sounding like "Black Adder," you end up sounding like pastiche. If, on the other hand, you don't, you don't convince your reader that the language, you know, smells authentic, then – bubble of fiction is popped because the reader's thinking, hang on, this sounds like speech that could have been from a sitcom I saw last week.
So you have to sort of create what I came to think of as a bygone-ese kind of dialect, which is not in fact completely plausible. It doesn't really work if you have characters using the word harken, for example. But which still smells and has the right texture of 18th century speech. And it's tough to do that. It's tough to work out exactly how to do it.
GROSS: And then you have to be consistent once you've figured it out.
Mr. MITCHELL: Oh, you have to be consistent. And then, of course, you have to avoid the trap where my rather large cast in this book – I think someone worked out there's about 150 speaking parts in it – they mustn't all sound the same because that also pricks the bubble of fiction. That also makes the reader think, well, why are all these people speaking the same voice? That doesn't happen in life. So you have to work out bygone-ese but then subdivide it amongst the Dutch, the Japanese, the British.
GROSS: It sounds like you really made life hard for yourself.
(Soundbite of laughter)
Patrick O'Brian worked hard (and I think successfully) at this kind of historical recreation (see here, here, here, here , here, here, here, here for some exemplification and discussion).
It's easy to point to other series of historical novels, including some very enjoyable ones, where this problem is not handled very well. But since I don't spend my weekends at Re-enactment Festivals, I won't name names.
---