« previous post | next post »
A few days ago, we looked at a propaganda poster in Beijing: "'Dangerous love'" (4/19/16).
In continuing research on this poster, I discovered that at one site where it was pasted on the wall, there was an enigmatic sequence of lines on another piece of paper pasted on the wall just to the right of the 16-panel poster that the whole world was talking about: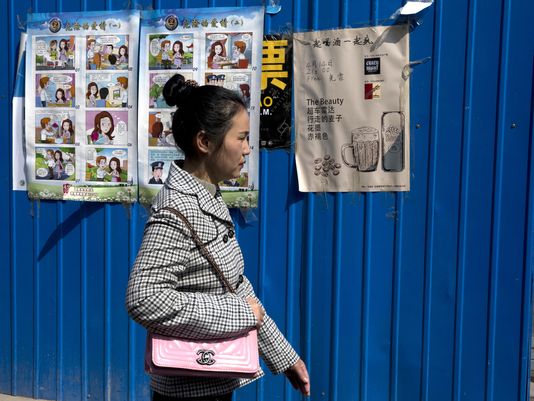 Sources: here and here (close-up).

The first thing I noticed on the light brown piece of paper was what I took to be a poem:
The Beauty
chāochē léidá
xíngzǒu de màizi
huā mò
chìhésè
The Beauty
超车雷达
行走的麦子
花墨
赤褐色
The Beauty
Radar for passing other cars
Walking wheat
Floral ink
Auburn
It reminded me of a Chinese poem written in Taiwan that I read approximately thirty years ago which had the English title "Glove" and developed the conceit of "love" being hidden inside of "glove".
I must confess that I couldn't make sense of these lines as a poem, and it didn't help much that at the top of the sheet was this line (for quite some time I wasn't sure how to read the last character):
yīqǐ hējiǔ yīqǐ fēng 一起喝酒一起疯
("let's drink together and get crazy together")
So I asked several people their opinion and was not very surprised when a variety of readings were offered.  A graduate student from China suggested that the five lines were the names of bands that would be playing at a pub or club.  The most amazing explanation, however, came from a poet who lives in Beijing:
I think that the line at the top is saying "Drink together, DIE together."
As for the little poem, it fits with the unsafe driving theme of "drink together, die together." Some crazy drivers install an instrument (it's not actually radar) that confuses the speed-trap instrumentation that detects speeding cars. When they need a burst of speed to pass a another car, they turn on their "anti-speed trap" device so they can blaze past it. Alternately, there is a kind of instrument that tells you a speed detector is near, so you can slow down to avoid getting a ticket. If you rely on such a device, that means you'll be driving pretty fast when you're not near a speed trap, so you'll be in danger. I have actually been in a car in Beijing in which the driver was using the latter detector! I'm not sure the former kind of instrument really exists, but the latter does, and either would explain the first line of the poem.
行走的麥子 sounds like a modern-poetry idiom for "an accident waiting to happen," namely that this is moving "wheat" that is about to get lopped off.
Chinese are fond of metaphors of splattered blood, so 花墨 means "your spattered blood will be bright-colored ink."
赤褐色 sounds like the color of contused flesh.
"Found art" is a well-established artistic form.  Perhaps we can refer to the five lines on the light brown piece of paper as a ready-made specimen of "found poetry".
[Thanks to Fangyi Cheng, Meng Lang, and Denis Mair]
---