« previous post | next post »
According to Nicholas Keung, "All immigrants face mandatory language test", The Star, 7/20/2010:
Born and raised in New York, Dodi Robbins graduated from Harvard University and has been practising law for 13 years.
Her first language is English. Yet like all other skilled immigrants applying to settle in Canada, the American corporate lawyer must now take a language test to prove her English is good enough to settle here.
"I was outraged, insulted and floored," said Robbins, who obtained her law degree at Benjamin N. Cardozo Law School in New York. A mother of two, she has been working in Toronto on a work permit for four years as compliance and regulations counsel for an international financial services company.
"I almost fell off the chair. I've been practising law here for years and I have to prove my proficiency in English?"
Last month Ottawa made its language proficiency test mandatory for all skilled immigrant applicants, including native English and French speakers. The so-called "ministerial instructions" stipulate officials are not to process applications without language test results, starting June 26.
There seems to be some substantive controversy over the way the policy was introduced:
Critics say the government is now trying to use the ministerial instructions to circumvent public scrutiny and consultation, ramming through changes without parliamentary oversight.
But Ms. Robbins' case seems to be an odd one to lead with.  It's legitimate for her to be annoyed at having to spend a half a day and $285 taking the IELTS. But the article describes her as sweating the outcome:
Robbins says she is juggling her full-time job and two kids to prepare for the IELTS test in August.
Does a native speaker with a college education really need to "prepare for the IELTS test"?  If so, it must not be a very well-designed instrument.
I recognize that "language exams" can be (and sometimes are) designed to test something other than language proficiency. When I was a graduate student, we needed to demonstrate proficiency in two languages other than English. In principle, all that was required was the ability to translate a linguistics article,  with access to a dictionary. Having achieved roughly that level of competence in German, I planned to take the German exam. Then one of my fellow grad students, a native speaker of German who had an undergraduate degree from a well-regarded institution in Austria, told me that she had failed that exam.
Apparently the gentleman who administered the German exam had a chip on his shoulder about all the grad students who didn't take the courses his department offered. In any event, he apparently set my friend to translate a particularly fiendish passage from von Humboldt, which she found so impenetrable that she occasionally got confused about who did what to whom.  Or perhaps she suffered the fate that Mark Twain described in The Awful German Language:
You observe how far that verb is from the reader's base of operations; well, in a German newspaper they put their verb away over on the next page; and I have heard that sometimes after stringing along the exciting preliminaries and parentheses for a column or two, they get in a hurry and have to go to press without getting to the verb at all. Of course, then, the reader is left in a very exhausted and ignorant state.
Anyhow, I abruptly changed course and arranged to take my German exam in Latin.
And then there's the traditional Japanese method of determining English proficiency, which apparently is a version of the cloze test that in effect requires students to commit large numbers of classic works to memory.
But I find it hard to believe that the IELTS is designed in such a way that a highly educated native speaker really needs to study for it. Can someone who's taken it recently comment?
If I understand the situation correctly, this is roughly the Canadian equivalent of a U.S. H-1B visa, for which a language proficiency exam is not required, rather than the Canadian equivalent of the U.S. Naturalization process, which does have a language proficiency requirement, though a rather minimal one:
During your interview, a USCIS officer will test your ability to read, write, and speak English and your knowledge of civics.  You must read one sentence out of three sentences correctly in English, and you must write one sentence out of three sentences correctly in English.  Your ability to speak English is determined during your interview on your naturalization application.  Finally, you must answer 6 out of 10 civics questions correctly to achieve a passing score.
[Update — other stories suggest that Ms. Robbins has had a Canadian work permit for several years, and is now applying for citizenship. But it seems that what she is actually doing is applying for status as a "permanent resident" — like having  "green card" in the U.S. — which may or may not be a step on the way to naturalization. It's not clear to me yet whether similar language tests are required in order to get a work permit.]
[Update #2 — Apparently there is no "passing grade" on the test. According to this page,
You must provide proof of language proficiency by taking a language test from an agency designated by CIC. With your test results, you will be able to see exactly how many points you will receive for the language selection factor.
The "points" are part of the system described here: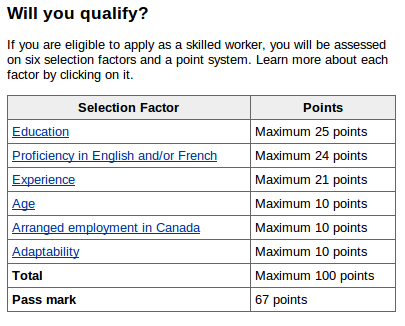 Also, this is part of the application for admission as a "permanent resident" under the "skilled workers and professionals category", which is not the same as applying for citizenship, but is a bigger deal than getting a limited-term work permit.]
---