« previous post | next post »
Here's a case that  I'm hoping will turn out to be an epic example of journalistic misunderstanding.  Because the alternative is that the International English Language Testing System is a really, really bad way to measure English language proficiency.  And that would be a shame, because IELTS, a product of University of Cambridge ESOL Examinations and the British Council, is pretty much the standard English proficiency test outside the U.S.

Commenting on this morning's post "Language tests for immigrants in Canada", IS pointed us to a .pdf of a "sample test" on the web site of The Toronto Star.  It includes four questions — and I bet you can't get more than half of them right without peeking at the answers.  I certainly couldn't. Here's the test, minus the answer key: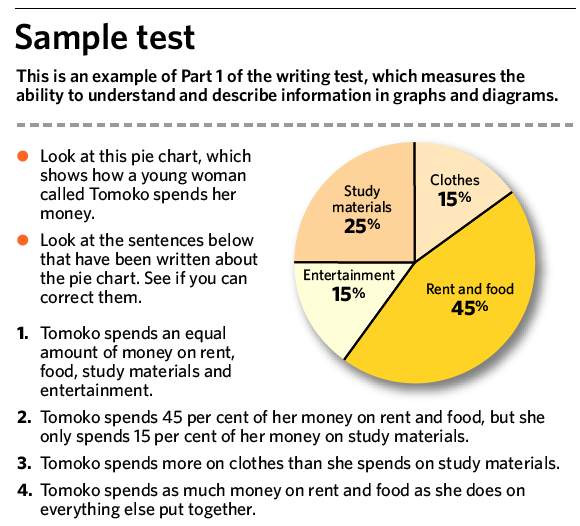 Let's try to correct these sentences one at a time. The first one is
1. Tomoko spends an equal amount of money on rent, food, study materials and entertainment.
I thought of several ways to "correct" this sentence, which is ambiguous but false under all available interpretations. One alternative among many would be:
1a. Tomoko spends more money on rent and food than she does on study materials and entertainment.
But according to the answer key, the (only?) right answer is:
1b. Tomoko spends an unequal amount of money on rent, food, study materials and entertainment.
I'm not sure that this is even a grammatical English sentence. I could say "Tomoko spends unequal amounts of money on A, B, C and D", but  "… spends an unequal amount of money on A, B, C(,) and D" just seems wrong to me, with or without the extra comma.  And at best, the "corrected" sentence strikes me as awkward and uninformative.
I got the second sentence right. It simply gives the wrong percentage for "study materials", and so the obvious thing to do is to substitute 25 for 15:
2. Tomoko spends 45 per cent of her money on rent and food, but she only spends 15 25 per cent of her money on study materials.
However, some people might prefer to move only so that it's adjacent to its focus: "… but she spends only 25 per cent of her money on study materials". Apparently this would be marked as a wrong answer, even though some prescriptive authorities would mandate the change.
I also got the third sentence right, though it was a near thing:
3. Tomoko spends more less on clothes than she does on study materials.
I was tempted to leave more and invert the order of the categories compared.  And again, apparently that would have been wrong — though in making that correction, I'd demonstrate that I understand the text and the pie chart, and can compose an English sentence to express my understanding.
4. Tomoko spends as much on rent and food as she does on everything else put together.
I got this one wrong. I decided to add "almost" before "as much". But the right answer, apparently, is to change "as much" to "less". [As a commenter notes below, the necessary accompanying change of "as" to "than" is omitted from the answer key.]  I like my edit better, although it would apparently have been marked wrong.
So my score was 50%. How'd *you* do?
Getting back to the reason that I'm hoping for misleading journalism, it would be nice if the cited answers were simply examples of possible correct answers, rather than the only answers accepted as correct. Then the fact that the Toronto Star presented the answers as shown below would be rather misleading, but the questions and answers could still be part of a plausible evaluation of English proficiency.

I'm hoping that someone who knows how the IELTS is graded — maybe even someone who works as an IELTS grader — will tell me that I would have scored 100%, not 50%. But I'd need some favorable odds to be willing to bet money on that outcome.
---