« previous post | next post »
Photograph of a sign in Hangzhou: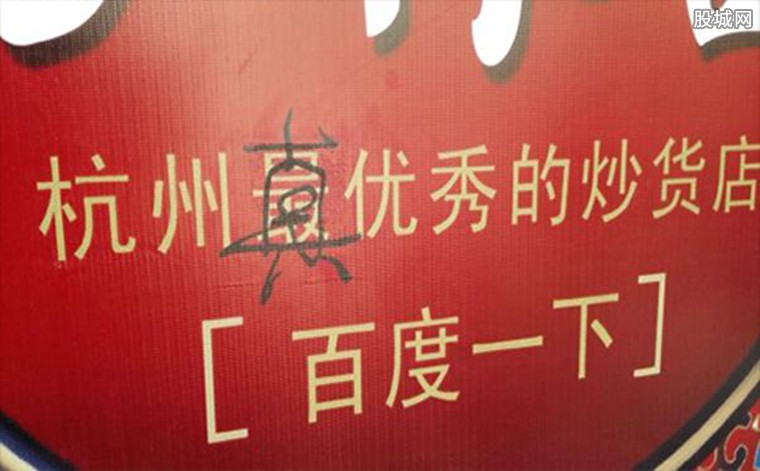 The first line of the sign says:
Hángzhōu zuì yōuxiù de chǎohuò diàn 杭州最优秀的炒货店
("Hangzhou's most outstanding shop for roasted seeds and nuts")
The original zuì 最 ("most") on the sign has been written over with the character zhēn 真 ("truly").  The reason for this will be explained below.
The second line of the sign says:
Bǎidù yīxià 百度一下
("check it on Baidu")
This seems to be the slogan of the shop.  It is appropriated from the slogan for the search engine called Baidu:
Bǎidù yīxià, nǐ jiù zhīdào 百度一下,你就知道
("If you check it on Baidu, you'll know; use Baidu search, you'll see")
Baidu is China's Google clone.  See:
"Soon to be lost in translation" (7/11/10)
As for what prompted the shopowner to write zhēn 真 ("truly") over zuì 最 ("most"), here's a report:
"CHINA TRANSLATED: Mafia, vaccinations, and a most unfair fine"
On March 22, a snack bar in Hangzhou was reportedly fined 200,000 yuan ($30,900) for saying "The Best of Hangzhou," and "The Best of China," on its in-shop signboards. The city's Market Supervision Administration said using the term "most" is a violation of Advertisement Law.
The owner complained that the fine was too heavy for him: "200,000 yuan is what the bar earns in a whole year. I have taken away the terms as required. It is not right to kill my business over just this." The authorities denied the complaint, claiming that the regulation was issued last September and the owner was responsible for learning about new laws.
Many who read the news expressed sympathy toward the shop owner. One remark said: "I just cannot understand how the government fails to supervise the vaccine market properly while it has time to punish things like this." Another remark riffed on the Communist Party's notorious slogan "The sun is the reddest, Chairman Mao is dearest," saying "I guess the Party should be fined billions of yuan for the most unreal advertisement in history?"
The reference to tainted vaccine is to the major medical mishap that occurred last week.  It caused a huge public furor that is described in this article:
"China vaccine scandal: 37 arrested" (BBC, 3/23/16)
[Thanks to Yixue Yang]
---