« previous post | next post »
Photograph accompanying Catherine Wong's article titled "Farewell Palm Springs: China to crack down on foreign names for buildings, residential areas to 'protect culture'" (SCMP, 3/23/16):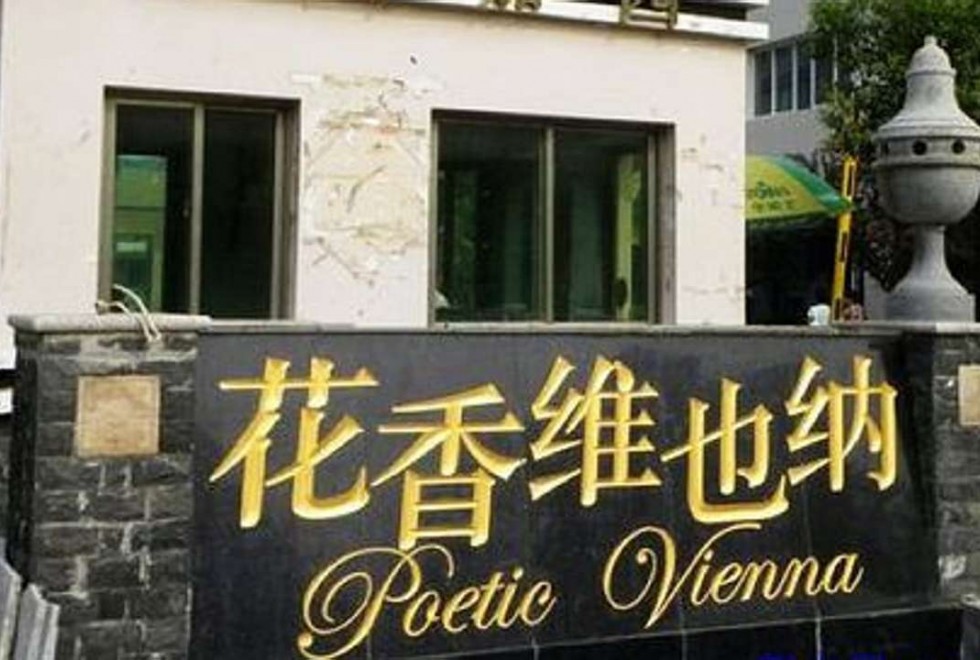 The Chinese sign outside this development reads:
huāxiāng wéiyěnà 花香維也納
("floral fragrance Vienna")
Such grandiloquence is typical of real estate developments in China.  Often, as in this case, they hit you with a double dose of bombast, with the Chinese saying one thing extravagant, and the English another.
Something similar happens with translations of English movie titles into Chinese, where a short, serious title in English often becomes something long, hilarious, and pompous in Chinese.  See here and here.  The latter article, which also deals with translations of English language film titles into other languages, has plenty of Chinese examples, including this interesting section:
The Chinese characters for "story" used in most movie titles, zǒngdòngyuán (总动员), literally translate to "general mobilization", which sounds militaristic and vaguely threatening. This trend is particularly apparent in Pixar films:
Toy General Mobilization (玩具总动员) – Toy Story
Super People General Mobilization (超人总动员) – The Incredibles
Seabed General Mobilization (海底总动员) – Finding Nemo
Food General Mobilization (美食总动员) – Ratatouille
Machine Implement People General Mobilization (机器人总动员) – WALL-E
Just to be clear, zǒngdòngyuán 总动员 does not mean "story"; it means "general mobilization".  There are plenty of other words for "story" in Chinese, the most common being gùshì 故事.
Brendan O'Kane, who has worked in the Chinese film industry, notes:
My impression is that the locus classicus for this is the title of Toy Story, and that this was originally an HK rather than PRC translation. (I remember hearing this somewhere, but can't find anything on a quick search.) As you've listed, it seems to turn up most frequently in the titles of animated films — particularly ones from Pixar.
Re: overtones: despite the literal sense of 总动员, I don't know that it's perceived as particularly military or threatening at this point. ("Brigade" in English might be a good comparison: "Charge of the Light Brigade" vs. "Laugh Brigade" and "Code for America Brigade.") If I had to guess, I'd say that 总动员 is probably more of a branding strategy at this point than a translation of anything in particular: it's familiar enough to serve as a sign to people that if they enjoyed Toy Story / Inside Out / Ratatouille, then they'll enjoy this other movie as well. (WALL-E, for instance, really only has two characters in it, which would make 总动员 feel weird — to me at least; check with a native speaker — if it were being used for its meaning.)
To return to China's crackdown on foreign names for buildings and residential areas, I doubt seriously that the new pronouncements will amount to a hill of beans.  As the SCMP article states,
The ministry introduced a set of guidelines forbidding the use of westernised names for residential areas or buildings in China in 1996, but the rules have not been properly enforced, the report said.
Just as I was about to make this post, June Teufel Dreyer sent in another article on the same subject:
"In Bid to Protect 'National Dignity,' China Cracks Down on Foreign Place Names " (WSJ, 3/23/16)
It's not gonna work.  We've been through all of this before.  So long as China remains open to the world, foreign names will continue to increase.
"Banning foreign-language signs in China " (10/12/13)
"English Banned in Chinese Writing " (12/23/10)
[h.t. Mark Metcalf]
---