« previous post | next post »
The Onion News Network, 7/20/2010:

Scott Adams, "Conversation", 7/20/2010:
Imagine an advanced alien life form that materializes on Earth in the middle of a popular dance club. The alien has a cloak of invisibility and observes the humans dancing. He is here to watch and learn. My question is this: Would the alien ever learn to distinguish good dancers from poor dancers?
Now suppose the alien leaves the club and finds a bar that is open late. He observes a lot of what we call "conversation" happening. The alien's universal interpreter device allows him to understand the content of the conversations. My question is this: Would the alien ever learn to distinguish a good conversationalist from a poor one?
I started thinking about this after reading that people with Asperger syndrome have trouble understanding the subtleties of human social interaction. That skill doesn't come as a package deal with general intelligence. The advanced alien can't figure out who the good conversationalists are, nor can the fellow with Asperger syndrome even if he has an otherwise exceptional IQ.
The sad reality behind the Onion's joke is well covered in the Wikipedia article on "feral children". And Simon Baron-Cohen's theory of autism as "mind blindness", which implies difficulties in conversational skill, is discussed (and questioned) here. Note that Scott Adams takes a different view of the situation:
You might think that everyone on earth understands what a conversation is and how to engage in one. My observation is that no more than a quarter of the population has that understanding. I was solidly in the conversationally clueless camp until I took the Dale Carnegie course, in which one small part of the learning dealt with the mechanics of conversation. It was a life-changing bit of knowledge.
Prior to the Dale Carnegie course I believed that conversation was a process by which I could demonstrate my cleverness, complain about what was bugging me, and argue with people in order to teach them how dumb they were. To me, listening was the same thing as being bored.  I figured it was the other person's responsibility to find some entertainment in the conversation. That wasn't my job. Yes, I was that asshole. But I didn't know it. The good news is that once I learned the rules of conversation, I was socially reborn. It turns out that active listening is more fun than talking, although sometimes you need to guide the conversation toward common interests.
Three-quarters of the people reading this post just thought "Uh-oh. I didn't know conversation had rules."
There's less linguistic (or other serious) research on "conversational rules" in this sense than there might be, given how interested the general public is in it. Most of such work that I know about is motivated by the engineering goals of human-computer interaction, where for so far, the general choice seems to be between too little logic and too much. A recent Partially Clips strip on the "too much" side of the balance sheet: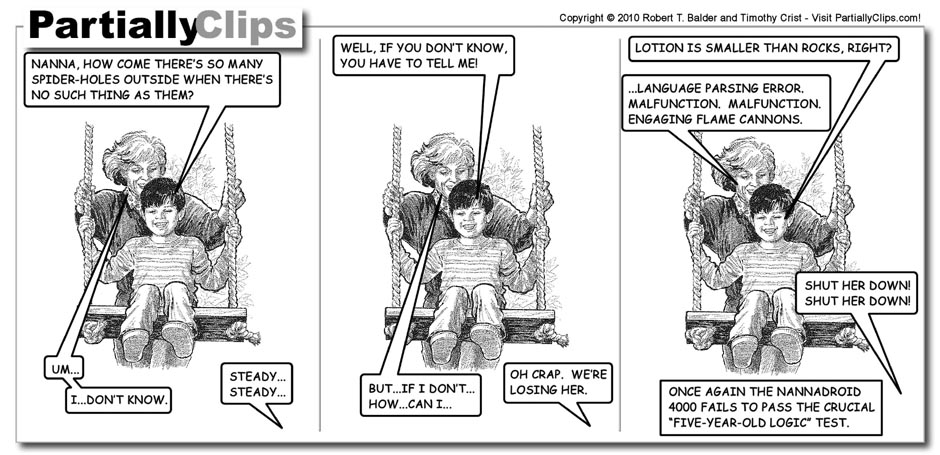 ---