« previous post | next post »
Mark Liberman recently asked, "What was the earliest use of mixed typographical symbols (as opposed to uniform asterisks or underlining) to represent (part or all of) taboo words?" The use of such symbols appears to have originated as a comic-strip convention. Comic strip fans, following Mort Walker's Lexicon of Comicana, have often called these cursing characters grawlixes, though I prefer the term obscenicons. In Gwillim Law's history of grawlixes, he lists examples of cartoon cursing going back to the Sep. 3, 1911 installment of "The Katzenjammer Kids." Here is the panel in question (which I found in the Washington Post archives):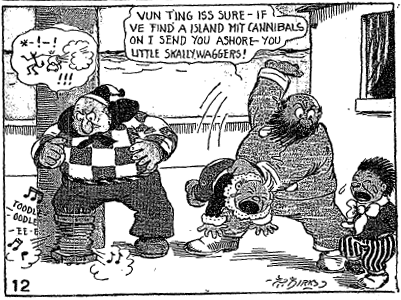 Along with a sequence of asterisk-dash-exclamation point-dash-exclamation point, the speech balloon also features what appears to be a stick-figure devil firing a cannon, with three more exclamation points for good measure. As delightful as this example is, it's not the earliest use of obscenicons on the comics page. I found another "Katzenjammer Kids" strip using them, from two years earlier.

Skimming through comics pages in the newspaper databases, I discovered the "Kids" strip of Aug. 8, 1909 (as printed in The Atlanta Constitution), with the title, "One of Those Dod Gasted Lumber Flumes!" (Dod gasted is a minced oath along the lines of dad-blasted, in the strip's stereotypically German-accented style.) The Captain takes the Kids, Hans and Fritz, to see a log flume, and before too long the Kids have pushed the Captain and the flume owner, Diamond Joe, into the water. Diamond Joe exclaims, "Ouch!" followed by "* fool!", with lines around the asterisk.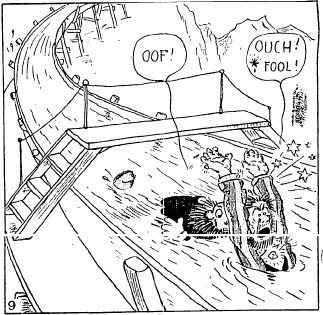 But when the Captain and Diamond Joe are finally fished out of the water, they both unleash a flurry of obscenicons (the Captain's sequence even includes an anchor symbol):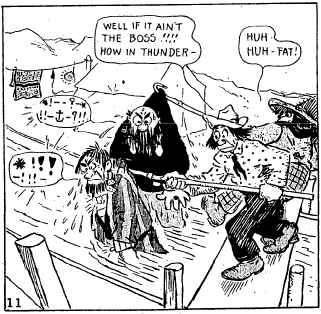 (You can see the whole strip here.)
Since "The Katzenjammer Kids" often portrayed Hans and Fritz mischievously tormenting adults, who then react with cartoonish rage, it's quite likely that earlier obscenicons can be found in the strip's history. Credit "Kids" creator Rudolph Dirks, then, with being the true pioneer of typographically innovative taboo-word substitution.
[Update, July 24: See this follow-up post for obscenicons going back to 1902.]
---