« previous post | next post »
Jennifer Ouellette, "The Higgs Boson May Have Five Faces", Discovery News, 6/21/2010:
And now the team is back with even more intriguing results to announce from their subsequent analysis, published on arVix.
The link will take you to Dobrescu, Fox, and Martin,  "CP violation in B_s mixing from heavy Higgs exchange", arXiv:1006.4238. And the arXiv, as Wikipedia explains, is "pronounced 'archive', as if the 'X' were the Greek letter Chi, χ", and
was originally developed by Paul Ginsparg and started in 1991 as a repository for preprints in physics and later expanded to include astronomy, mathematics, computer science, nonlinear science, quantitative biology and, most recently, statistics. […]
It was originally hosted at the Los Alamos National Laboratory (at xxx.lanl.gov, hence its former name, the LANL preprint archive) and is now hosted and operated by Cornell University, with mirrors around the world. […]
Its existence was one of the precipitating factors that led to the current revolution in scientific publishing, known as the open access movement, with the possibility of the eventual replacement of traditional scientific journals.
Jennifer Ouellette may be "a recovering English major", but as associate editor of APS News, with writing credits from The Industrial Physicist magazine as well as Discover, I'm sure that she knows perfectly well what the arXiv is, and how it's pronounced and spelled.
The typo "arVix" for "arXiv" interchanges the two non-adjacent consonants 'X' and 'v', while maintaining the pattern of capitalization independent of the letters involved.
I've written before about the conservation of patterns of orthographic gemination (also here, here, here). But I don't think that we're previously noted a similar conservation of capitalization — perhaps this is because capitals are usually found either initially (where letter metathesis is unlikely to go unnoticed) or throughout a word (where it wouldn't matter), or quasi-randomly arranged in the case of StudlyCaps (where it also wouldn't matter).
Here's the obligatory screenshot: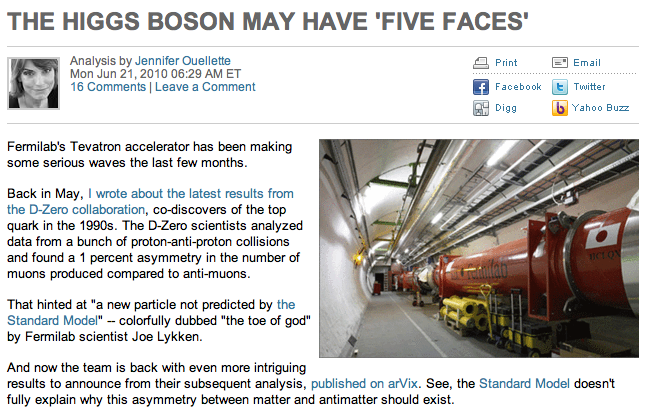 [For those who care about the science, the back-up evidence for this multiplication of Higgses seems to have been reduced from a 2-sigma event to a 0.8-sigma event.
And of course, no linguistic discussion of the arXiv should omit mention of the snarXiv, where particle physicists are replaced by a stochastic context-free grammar.]
---