« previous post | next post »
If you knew the background, you could see this one coming: "Welcome Replaces Costly for Honduras", NYT 5/10/2010:
The obligatory screen shot: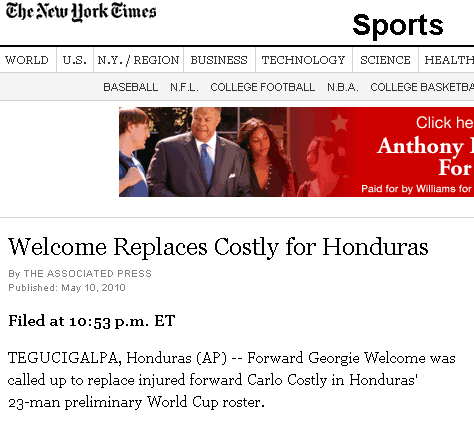 The unfortunate headline-writer could have gone with "Honduras Swaps Costly for Welcome". No, wait, how about "Welcome for Costly Swap by Honduras"?
Some publications just gave up and went with the wordplay: "Costly blow as Hunduras striker ruled out of World Cup"; "Welcome boost for Honduras striker".
Maybe this is connected to those batter markets…
My first reaction, when I saw the headline, was that welcome replaces had joined a big ask in the pantheon of heroic nominalizations. But not yet, apparently.
[Hat tip to Jeffrey Reeder.]
---