« previous post | next post »
The New York Times reports on efforts by Shanghai officials to crack down on Chinglish, but the prospects are daunting:
For English speakers with subpar Chinese skills, daily life in China offers a confounding array of choices. At banks, there are machines for "cash withdrawing" and "cash recycling." The menus of local restaurants might present such delectables as "fried enema," "monolithic tree mushroom stem squid" and a mysterious thirst-quencher known as "The Jew's Ear Juice."
Those who have had a bit too much monolithic tree mushroom stem squid could find themselves requiring roomier attire: extra-large sizes sometimes come in "fatso" or "lard bucket" categories. These and other fashions can be had at the clothing chain known as Scat.
Language Log's own Victor Mair provides expert commentary, explaining how such memorable Chinglishisms as "fried enema" have been generated by the Jinshan Ciba dictionary software. Victor's now the go-to guy for egregious Chinese-English mistranslations, and despite being inundated with Chinglish contributions via email, he still tells the Times that "If someone would pay me to do it, I'd spend my life studying these things."
I leave you with a photo taken by Ian Mair (no relation) in Hangzhou, not far from Shanghai.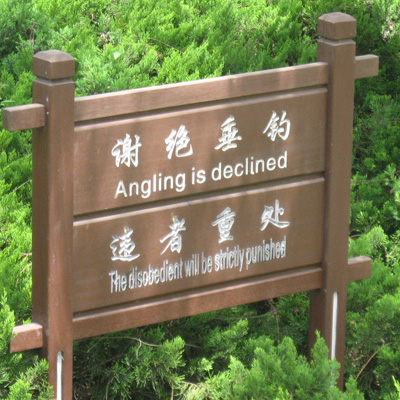 [As Victor notes in the comments, make sure to catch the slide show of Chinglish examples accompanying the article.]
---