« previous post | next post »
One of the many difficult things about English spelling is that you can't choose the right letter for an unstressed vowel unless you know the word, or guess its etymology, or get lucky. Everybody gets the wrong end of this one from time to time — certainly I do — and that's why dictionaries and the internet are especially helpful for those of us who occasionally display our orthographic guesses in public. Last week, someone at Fox News got overconfident: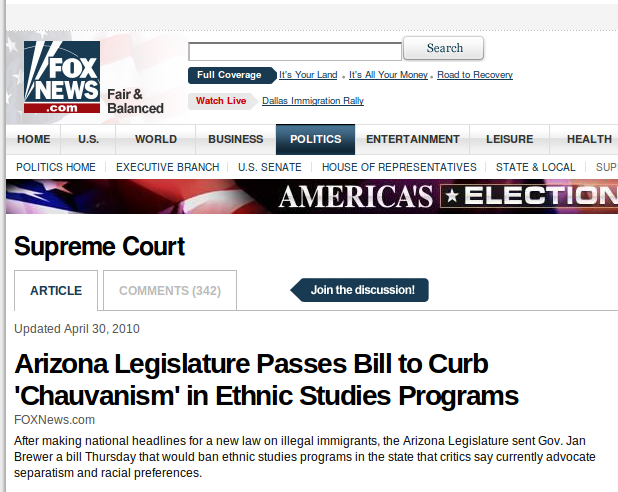 What's more surprising is that today, four or five days later, the headline hasn't been corrected.
Where did this chauvinism thing come from, anyway? The OED explains:
[a. F. chauvinisme, orig. 'idolatrie napoléonienne' La Rousse; from the surname of a veteran soldier of the First Republic and Empire, Nicolas Chauvin of Rochefort, whose demonstrative patriotism and loyalty were celebrated, and at length ridiculed, by his comrades. After the fall of Napoleon, applied in ridicule to old soldiers of the Empire, who professed a sort of idolatrous admiration for his person and acts. Especially popularized as the name of one of the characters in Cogniard's famous vaudeville, La Cocarde Tricolore, 1831 ('je suis français, je suis Chauvin'); and now applied to any one smitten with an absurd patriotism, and enthusiasm for national glory and military ascendancy.]
The word's route to this Fox headline runs, as so much current American right-wing attitudinizing does, though a period of incubation in left-wing politics:
1955 Bull. Atomic Sci. Apr. 142/3 Even though scientists did not go as far as to confuse scientific knowledge with national ideological doctrine, they did, nonetheless, often make it a point of patriotic honor to practice a certain kind of scientific nationalism and almost indeed a scientific chauvinism. 1968 Voice of Women's Lib. Movement June 8 The chauvinism..they met came from individuals and was not built into the institution itself. 1970 K. MILLETT Sexual Politics (1971) II. iv. 208 At times there is a curious tone of 'female chauvinism'. 1973 C. SAGAN Cosmic Connection (1974) xxiv. 180 Contact with another intelligent species on a planet of some other star..may help us to cast off our..human chauvinism. 1975 New Left Rev. Nov.-Dec. 48 Bachelard's neglect..cannot be ascribed to cultural chauvinism alone. 1984 N.Y. Times 15 Jan. 23/1 Freedom from sexism..must include a commitment to freedom from national chauvinism; class and ethnic bias; anti-Semitism; [etc.].
The new Arizona law, HB 2281, "prohibits a school district or charter school from including courses or classes that either promote the overthrow of the United States government or promote resentment toward a race or class of people." More specifically, it
States that the Legislature finds and declares that public school pupils should be taught to treat and value each other as individuals and not be taught to resent or hate other races or classes of people.
and
Prohibits a school district or charter school from including in its program of instruction any courses or classes that:
Promote the overthrow of the United States government.
Promote resentment toward a race or class of people.
Are designed primarily for pupils of a particular ethnic group.
Advocate ethnic solidarity instead of the treatment of pupils as individuals.
The words chauvinist and chauvinism don't appear in the text of the law, in any spelling. The body of the Fox News story gives us one of each:
State Superintendent for Public Instruction Tom Horne called passage in the state House a victory for the principle that education should unite, not divide students of differing backgrounds.
"Traditionally, the American public school system has brought together students from different backgrounds and taught them to be Americans and to treat each other as individuals, and not on the basis of their ethnic backgrounds," Horne said. "This is consistent with the fundamental American value that we are all individuals, not exemplars of whatever ethnic groups we were born into. Ethnic studies programs teach the opposite, and are designed to promote ethnic chauvinism."
Horne began fighting in 2007 against the Tucson Unified School District's program, which he said defied Martin Luther King's call to judge a person by the content of their character, not the color of their skin. Horne claimed the ethnic studies program encourages "ethnic chauvanism," promotes Latinos to rise up and create a new territory out of the southwestern region of the United States and tries to intimidate conservative teachers in the school system.
As far as I can tell, self-identified conservatives like Mr. Horne are now terminologically (if not not orthographically) yoked with Trotskyites and other self-identified socialists, who seem to be the only others who deploy this word in describing the situation of Latinos in Arizona, e.g. "Socialist internationalism and the defense of immigrant workers", 5/4/2010:
Anti-immigrant chauvinism is a political weapon in the hands of the ruling elite and the right-wing demagogues who defend its interests, not only in the US, but in every country in the world.
Mr. Horne is symmetrically upset about pro-immigrant chauvinism, but the words (and some of the associated feelings) are the same.
[As for the eccentric and variable spelling, I'm assuming that this is the responsibility of reporters and/or editors at Fox, whom no one should give in to the temptation to mock. No doubt they'll learn better, as this word works its way towards the center of their ideological lexicon. And we can find other recent examples of "chauvanism" in an article by Ta-Nehisi Coates ("We had come in with our "Great Kings and Queens" narrative, as armor  against Western chauvanism"), in Bell Hooks' The Will to Change ("It is no accident that feminists began to use the word 'patriarchy' to replace the more commonly used 'male chauvanism' and 'sexism'"), and even in the Global Dictionary of Theology ("This impulse allowed them both to rise above the implicit chauvanism of some of their Christain [sic] socialist colleagues").
Note that there are eight hits on the Arizona Department of Education site for chauvinism, and none for chauvanism, supporting my guess that the Fox News spelling was a reporter's transcription error.]
---