« previous post | next post »
Some people are apparently still puzzled by the pronunciation of Eyjafjallajökull. So let's take it a bit at a time. This morning, we'll cover the unexpected (to non-Icelanders) pronunciation of the 'll' at the very end of the word. (I warn you in advance that I don't know anything about Icelandic, I'm just exercising some generic phonetics-fu with a little help from my friends…)
Here's a fragment of a "hi I'm X" dialog from an Icelandic Online course:
| | | |
| --- | --- | --- |
| XAVIER: | Já! En hvað heitir þú? | "Yes! But what is your name?" |
| KATRÍN: | Sæll, ég heiti Katrín. | "Happy [to meet you], my name is Katrín." |
| XAVIER: | Sæl. | "Happy [to meet you]." |
Let's zero in on sæl/l, which means something like "happy" or "fortunate". It's apparently used in various formulas of greeting or parting, roughly equivalent to "pleased to meet you" [update: though the adjective agrees with the addressee, with a meaning more like "you come (or may you be) happy/fortunate/blessed"]. Here the formula is abbreviated as the adjective alone.
When Xavier uses it, it's in a feminine form [agreeing with the addressee, Katrín], spelled "sæl" in the standard Icelandic orthography:
The 's' is unproblematic, and the 'æ' is a rising diphthong (IPA [aj]) rather like the vowel in English why. But the final orthographic 'l' is pronounced as a voiceless lateral fricative, written in IPA as [ɬ]. In a bigger font, that glyph looks like this:
[ɬ]
To make the corresponding sound, put the tip of your tongue against the roof of your mouth as if you were going to say "Language Log", but then just blow some breath out instead. [Note: I agree with John Wells (in disagreeing with the current Wikipedia entry) that this is a voiceless lateral fricative rather than simply a voiceless lateral, which would be written in IPA as an 'l' with a hollow dot underneath it.]
For those who appreciate such things, here's a spectrogram of Xavier's "Sæl." (Click to embiggen, as usual.)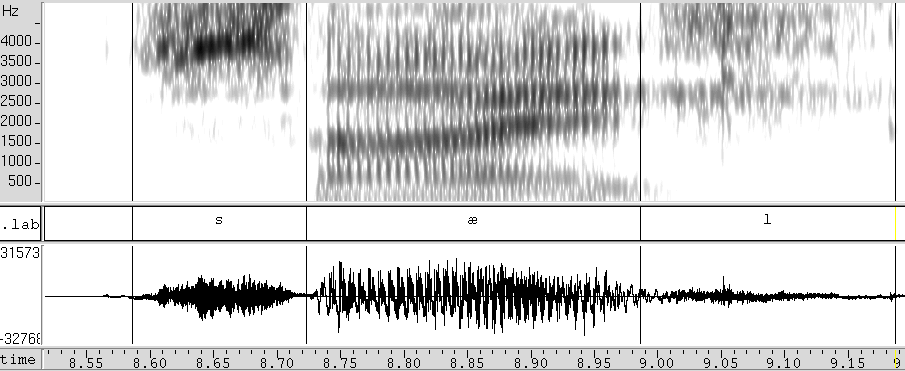 So if you're male, and want to say the Icelandic equivalent of "enchanté" when meeting someone, just use the English word size, substituting [ɬ] for the final [z].
But when Katrín says the same thing, she uses the masculine form [referring to Xavier], spelled "sæll". And that orthographic double 'll' is pronounced [tɬ]:
To make this sound, put your tongue tip in position to say "talk", let a little air pressure build up, and then release it into the [ɬ] sound that you learned to make just a little while ago.
(In that New York Times article, Andy Newman and Bao Ong describe this by writing that "the 't' at the end kind of sticks for a second and pulls away with a hint of a glottal 'l'". But it's in the nature of every [t] to "kind of stick for a second", and there's nothing "glottal" about the [l], except for the fact that the glottis does remain attached to the rest of the vocal tract during production of the sound.)
Here's Katrín's spectrogram: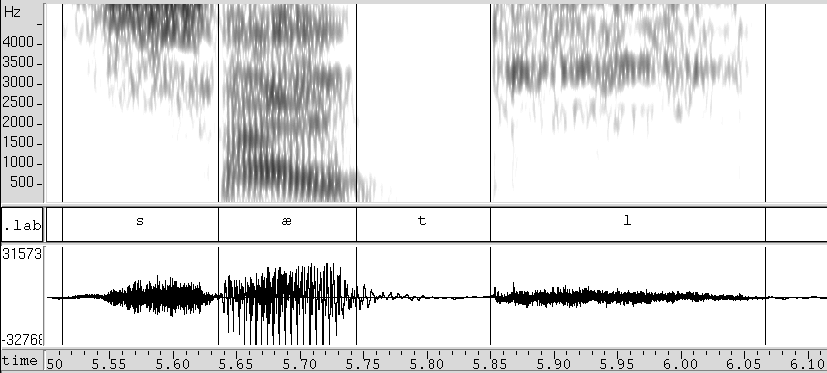 There you can see (as well as hear) the honking big "stop gap" (i.e. silence) between Katrín's 'æ' vowel and her lateral fricative. This is an instance of the "pre-stopped lateral" mentioned in my earlier post.
You can also see (and hear) that her vowel is a lot shorter than Xavier's. Vowel length is said to be determined by context in Icelandic, "assigned by [a] very late rule", as Steve Anderson explains in "An outline of the phonology of Modern Icelandic vowels", Foundations of Language 5: 53-72, 1969. But I can't see how to apply his rule to make the vowel long in sæl but short in sæll, so either he left something out, or I don't understand the rule, or something else is going on here. [Update: actually, as discussed below, the rule obviously does the right thing, given that it applies at a "very late" point where the final /l/ is already a voiceless lateral fricative. I warned you that I didn't know anything about Icelandic; but in fact, "something else is going on here" also seems to be a sentiment frequently encountered in examining Icelandic phonetics.]
OK, one last point. The word Eyjafjallajökull has two instances of orthographic 'll'. The final one is rendered as [tɬ], just as we've been discussing. The fact that 'll' is a "pre-stopped lateral" is true of both instances. But the transformation of the final /l/ into a "voiceless lateral fricative" is due to its word-final position. The 'll' in "fjalla" is just [tl], as you can hear in the hyperarticulated pronunciation by Begga (?) from the Icelandic consulate in New York, which I took from Andy Newman and Bao Ong, "Iceland Volcano Spews Consonants and Vowels", NYT 4/16/2010:
You can see the difference in this spectrogram, where there is a clear phonetic [l] segment at the start of the second syllable of fyalla:

OK, enough for today. Maybe tomorrow we'll take up the performances by Jóhann Heiðar Árnason and Rögnvaldur Ólafsson, where Something Else Is Going On™:
[Thanks to Joan Maling for Icelandic guidance, though she of course is not responsible for the mistakes that I've probably made here.]
---