« previous post | next post »
Another intriguing sign from Nagoya, Japan sent in by Nathan Hopson: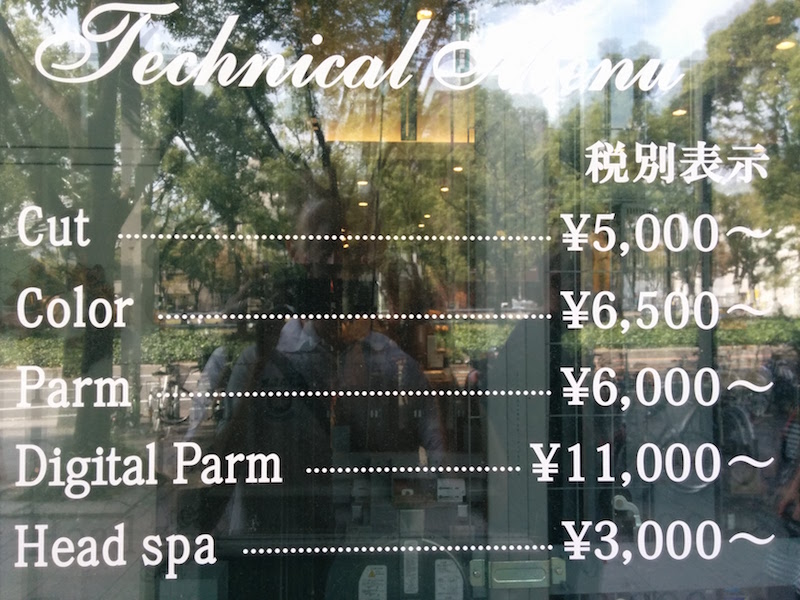 Since this is all in English (except for the straightforward heading of the price list), there's no need to explain any translation gaffes.
I simply want to call attention to several unusual usages in the English:
1. Technical Sauna.  At first I thought that was the name of the shop. But Nathan explains:
Actually, it's "Buddy Hair." "Technical Sauna" is the name they've given to their services. As I've said before, this use of "English" (Engrish?) is really just a paradoxical use of rōmaji as symbolically cosmopolitan but in fact "Galapagos."
2. Then I thought that "Parm", which is obviously meant for "perm", might somehow have been influenced by "parmesan".  So I asked whether the first part of "parmesan cheese", like "perm", is also "パーマ (pāma)"?  Again, Nathan set me straight:
No, which is probably why this error persists. It's パルメザンチーズ ( parumezanchīzu).
As for "Digital Parm" and "Head spa", your guess is as good as mine.
Nathan's further suggestions, though, are worth considering:
This is from a salon that offers two kinds of "parm," one "Digital" and the other, presumably, analog. Several things warrant our attention. First, nearly all salons in Japan misspell perm as "parm," probably because the Japanese abbreviation is パーマ (pāma). No cheese reference intended, surely. So this is not original. I was more interested in the proposition that a perm could be digital. I have no idea what that means….
Now I really want to know what a digital perm is.
Ah, maybe they set it with the fingers instead of rods!
---