« previous post | next post »
Nathan Hopson sent in this photo of a sign that is posted above the urinals at the Atsuta Shrine in Nagoya, the #2 shrine in Japan's Shinto hierarchy: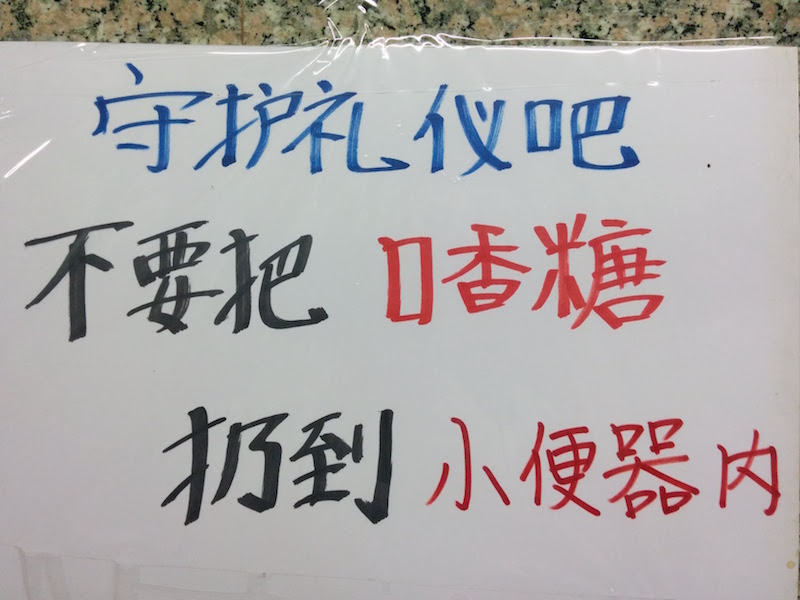 The sign reads:
shǒuhù lǐyí ba
bùyào bǎ kǒuxiāngtáng
rēng dào xiǎobiànqì nèi
守护礼仪吧
不要把口香糖
扔到小便器内
guard / protect / defend etiquette / decorum / ceremony / ritual, why don't you / all right?
don't throw gum into the urinal
I showed this notice to two graduate students from China, without telling them where it was from.  One of them said he thought it was just fine.  The other remarked:
I think the second line and third line are correct but the first line is not idiomatic. It is better to say something like "请遵守公德"*. 礼仪** refers to how people should behave before others in a public place.
VHM:
* qǐng zūnshǒu gōngdé 请遵守公德 ("please observe / follow public / social morality / ethics")
**lǐyí 礼仪 ("etiquette / decorum / ceremony / ritual", etc., etc.)
In a way, I agree with both of the graduate students.  All three lines are grammatically correct, and it's easy for a Chinese reader to understand what the message of the sign is meant to be.  Nonetheless, although the first line ends with the suggestive final particle "ba 吧" that is highly characteristic of Mandarin, the wording, or perhaps I should say sentiment, of the first four characters strikes me as somehow more Japanese than Chinese.
This is another installment in our long running series of Language Log posts on dàbiàn 大便 ("big convenience", i.e., "defecation") and xiǎobiàn 小便 ("small convenience", i.e., "urination"):
[Thanks to Jing Wen and Fangyi Cheng]
---