« previous post | next post »
I spotted this photograph in an article that I'll describe below: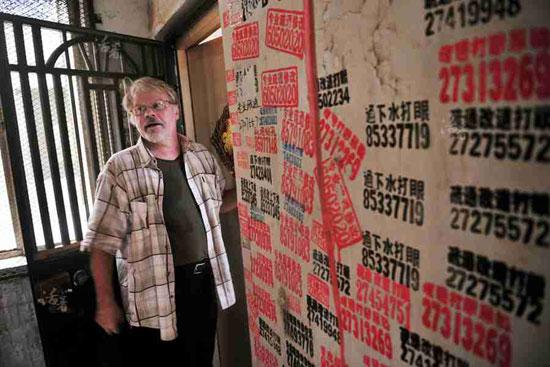 Before I introduce the article, during the course of which I'll identify the gentleman in the photograph, it is incumbent upon me to explain what all that red and black writing on the wall is about.  Here's what it says:
tōng xiàshuǐ dǎyǎn 通下水打眼 85337719
shūtōng gǎidào dǎyǎn 疏通改道打眼 27275572
Basically, they both mean "(we) open / unclog drains", with the second implying that, if your drain is beyond unclogging, they'll make a new line for draining away the water that is backing up, i.e., they can also install new drainpipes.  Since I've seen thousands of such stencilled signs in apartment buildings in China, clogged drains must be a huge problem there.
I described the phenomenon of massive advertising for fake certificates and seals on sidewalks and walls in Chinese cities in this post:
"Pinyin spam text message " (10/18/15)
Now, on to the article where I saw the above photograph:
"Měiguó 'Hànzì shūshu' zìfèi chuàngjiàn Hànzì wǎng  wèi cǐ qióngkùn lǎodǎo 美国'汉字叔 叔'自费创建汉字网 为此穷困潦倒" ("American 'Uncle Hanzi' creates a Hanzi website with his own funds  As a result, he ends up impoverished") (4/15/15)
The person pictured above and featured in the article is Richard Sears, who is the creator of a much visited website for looking up the early forms of Chinese characters.  I wrote about his website in this post:
"Chinese 'Etymology'" (1/17/11)
I admire Sears' determination and his valuable contribution to the study of the development of the Chinese writing system.  I have supported his work in the past and will undoubtedly do so again in the future.  May his drains never be clogged!
[Hat tip Sun Yitian]
---