« previous post | next post »
There has been a flurry of reports about a teacher in Sichuan province forcing tardy students to copy a crazy character with 56 strokes a thousand times, e.g.:
"Complex 'character test' facing tardy Chinese students" (10/29/15)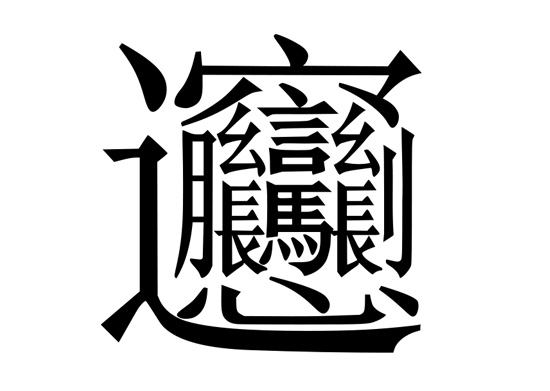 This is the whimsical, whacky character for a type of noodles that is popular in Shaanxi province.
Never mind that some people say the character has 57 strokes, while others say that it has 62 strokes, this zany monstrosity is a bear to write.  Having to copy it a thousand times would indeed be a kind of mindless, mind-numbing torture.  Furthermore, the sound that has been assigned to it — biang — is not part of the phonological inventory of Modern Standard Mandarin (MSM) and the ostensible phonetic component of this symbol did not develop naturally as part of the sound system of traditional Chinese characters.
Though the BBC article is intended to be humorous, I cannot help but point out one sentence that has two major errors:
Chinese characters are often rated among the most difficult languages in the world to write and master.
Chinese characters are NOT a language, and they certainly are not languages.  Taken all together, they constitute a script or writing system.
The author of the article makes better sense when they write:
Experts often say that the only effective way to master the art of writing Chinese is by repetition.
So students frequently practise handwriting exercises, writing out multiple lines of Chinese characters by hand.
This does convey an important truth about the neuromuscular necessity of repeatedly copying the characters if one wishes to be able to write them by hand.
"Character Amnesia" (7/22/10)
Also see this comment, the fourth paragraph from the end of my reply to "flow".
Of course, nowadays, especially with the development of reasonably effective pinyin input systems, most people are "writing" characters by typing them on computers or cell phones, so they no longer have to laboriously trace the strokes of characters, even one that has 56 / 57 / 62 strokes.  Their electronic devices do that for them.
"Chinese character inputting" (10/17/15)
The fact that I have had a big copy of this fanciful character for biang prominently posted on my office door for more than a decade attests to my recognition of it as an extreme emblem of certain essential sociocultural features of the Chinese writing system.
QUIZ for character aficionados:  do you have an explanation for the inclusion of the various elements that have been brought together to form this character?  I'll get you started by pointing out that the two cháng / zhǎng 長 flanking the mǎ 馬 ("horse") are there to emphasize how long the biangbiang noodles are.
[Thanks to C. Lee and S. Smith]
---