« previous post | next post »
Posted on Facebook by Aaron Gerow (Yale):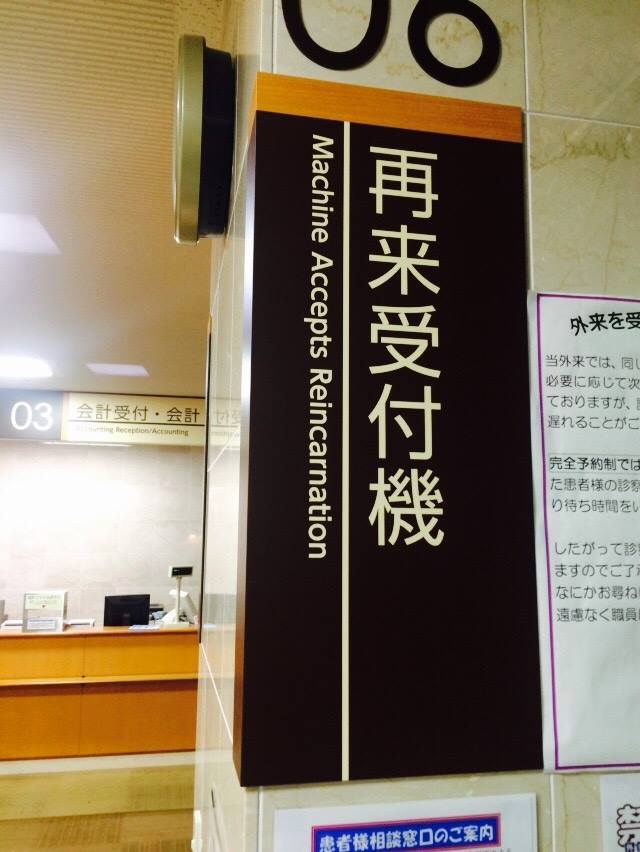 The photograph was taken in a Japanese hospital, where this wondrous machine is for automatic reception of returning patients.
sairai uketsuke-ki 再来受付機 ("return reception machine")
The mistake is obviously with sairai 再来 ("return"), though why "reincarnation" was chosen as the English translation is as mysterious as transmigration.
Not surprisingly, Japanese generally uses the typical Buddhist lexicon for reincarnation (rin'netenshō 輪廻転生 ["metempsychosis"], etc).  Sairai 再来 is occasionally used in the sense of "the reincarnation of [insert dead celebrity here]," so perhaps this accounts for the suggestion that this machine is totally cool with reincarnation.
Nathan Hopson, who called this gem to my attention, comments:
Part of the giggles for me was the polysemous possibilities of the mistranslated English: does the machine "accept" patients requiring reincarnation? requests for reincarnation? the idea of reincarnation?
Whatever the machine actually does, it must be miraculous.
---