« previous post | next post »
Tim Leonard sent in the following photograph of a Korean restaurant sign: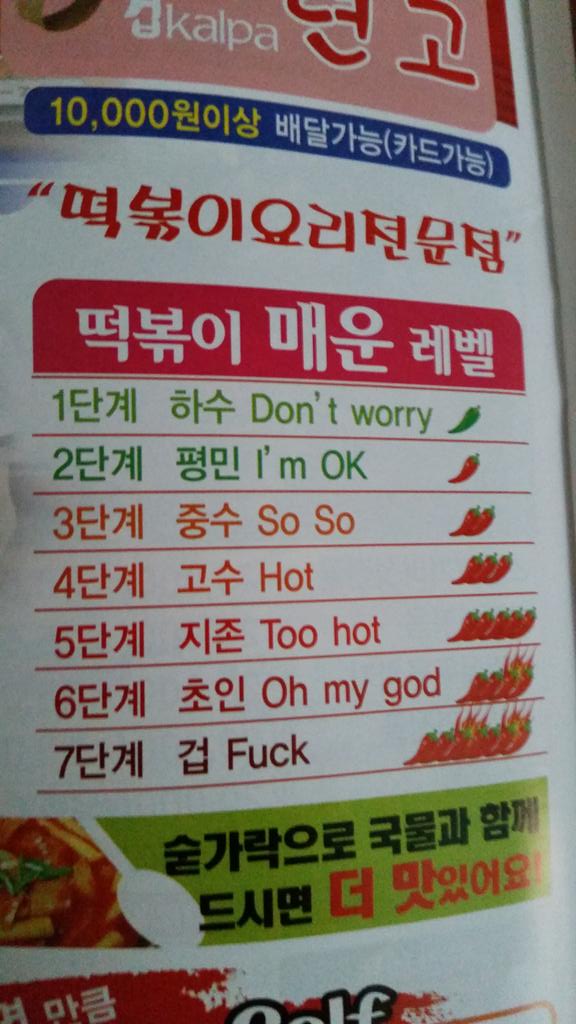 I present the transcription and translation of the sign in two slightly different versions:
1.
ttekpokki yoli cenmwuncem 뗙볶이 요리 전문점
("stir-fried rice cake specialty store")
ttekpokki maywun leypeyl 떡볶이 매운 레벨
("stir-fried rice cake — the level of spiciness")
Level 1 haswu 하 수 (下手)*
("an unskilled player; a low-grade player")
Level 2 phyengmin 평민 (平民)
("a commoner")
Level 3 cwungswu 중수 (中手)
("a mid-grade player")
Level 4 koswu 고수 (高手)
("mastery/ a master, a high-grade player")
Level 5 cicon 지존 (至尊)
("the most revered")
Level 6 choin 초인 (超人)
("a superman, Übermensch")
Level 7 kep 겁 (劫)
("a kalpa, eternity")
*hanja (Chinese characters) added
2.
Korean Romanization
McCune-Reischauer Romanization
Hanja
English translation
1
hasu
hasu
下手
'unskilled' (as used in games, martial arts)
2
pyeongmin
p'yŏngmin
平民
'commoner'
3
jungsu
chungsu
中手
'middle ranking (player)'
(a neologism, not commonly used, but clear in comparison with 1 and 4)
4
gosu
kosu
高手
'master'
5
jijon
chijon
至尊
'most revered'
6
choin
ch'o in
超人
'super-human'
7
geop
kŏp
怯
'terror'**
(the only grade not referring to a person)
떡 볶 이 요리 전문점
(Korean Romanization) tteokbokki yori jeonmunjeom
(M-R) ttŏkpokki yori chŏnmunjŏm
떡 볶 이 매운 레벨
(Korean Romanization) tteokbokki maeun lebel
(M-R) ttŏkpokki maeun lepel
**This literally means "scary", but as a slang term it seems to imply "extraordinary" or extreme".
I'm afraid that I would fall somewhere between level 1 and level 2, and if I tried level 7 I would end up in the eternal hereafter.
For Koreans, though, it seems that such specialized small restaurants for spicy rice cakes are popular among young people these days, and one explanation is because they are looking for something that can reduce or release their stress, which in this case is achieved by eating spicy food.
[Thanks to Haewon Cho, Sung Shin Kim, and Daniel Sou]
---