« previous post | next post »
Two years ago, I posted about a flubbed joke on Saturday Night Live's "Weekend Update," wherein Taran Killam as historical critic Jebidiah Atkinson slammed FDR's Pearl Harbor address as "a speech that was so boring-ass." The joke as originally written probably referred to a "boring-ass speech," because "[adjective]-ass" almost always occurs attributively (pre-modifying a noun or noun phrase) and not as a predicate adjective. (Acceptability judgments of the predicative use will vary, of course.)
Attributive vs. predicative use of "[adjective]-ass" is relevant again this week, after Sen. Rand Paul was captured on camera being snarky about a daylong livestreaming event his campaign was recording. Asked if he was indeed still running for President, he said:
"I don't know — wouldn't be doing this dumbass livestreaming if I weren't. So yes, I still am running for President. Get over it."
Paul told Fox News today that the comment was intended to be sarcastic. As Talking Points Memo reported,
Paul, who took flak this week for a subdued appearance in a day-long livestream video produced by his campaign, told Fox's "America's Newsroom" that he was joking when he called the exercise "dumbass."
In paraphrasing Paul's original comment, TPM changes the context of dumbass, from an attributive adjective pre-modifying livestreaming to something more predicative: the adjectival complement of the verb call in the frame "call NP AdjP." Call and similar transitive verbs like consider, declare, deem, designate, label, and proclaim can take two complements: (1) a noun phrase specifying someone or something being given a designation of some sort, and (2) a predicative noun phrase or adjective phrase specifying the designation.
I talked about the "call NP NP" frame in a 2006 post, "Pronominal perplexity at the AP," and "call NP AdjP" works much the same way. In both cases, we're encouraged to think of the first verbal complement (NP) as the subject of a clause and the second complement (NP or AdjP, depending on the frame) as that clause's predicate. Linguists often label such constructions "small clauses," which can be thought of as "predicative sentences without the copula." Inserting the copula (as well as treating the object of the main verb as the subject of the predicative expression) reveals the structure of the small clause:
Call [me crazy]: small clause is equivalent to I am crazy
He called [the exercise dumbass]: small clause is equivalent to the exercise is dumbass
In a quick check of Google News, I'm not finding any similar paraphrase of Paul's quote that uses dumbass predicatively. Instead, we get plenty of attributive uses like "Rand Paul's 'dumbass' masochistic campaign gimmick" (a headline on Washington Post's The Fix). Attributive use also allows for some play with the use-mention distinction, so referring to Paul's "'dumbass' remark" (as TPM did) or his "'dumbass' comment" (NPR's It's All Politics) makes it easy to treat his snarky observation and not the livestreaming event itself as the target of scorn.
Paul's campaign has responded to all of this with a T-shirt you can buy for $20, which reads, "I watched Rand Paul's livestream and all I got was this dumbass teeshirt."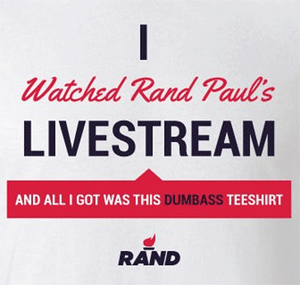 (Predictably, nitpickers have taken issue with the spelling of "teeshirt.")
---