« previous post | next post »
Steve Benen, "Jeb Bush's economic plan: 'Let the big dog eat'", MSNBC 9/11/2015:
Republican presidential hopeful Jeb Bush unveiled his tax-cut plan this week, and when making the pitch to voters, the former governor has said it's time "to let the big dog eat." It's a phrase Bush is apparently quite fond of.  
He told reporters on Wednesday that "let the big dog eat" is a Florida phrase, though I can report that I'm a Florida native – and I haven't the foggiest idea what he's talking about.
This phrase has been widely interpreted to mean "Greed is good — let rich people take and keep as much money as they want", which seem like a remarkably frank, not to say tone deaf, thing for a presidential candidate to say. So I thought I'd take a closer look, and see if I can figure out what in the world Jeb! actually thought he was saying.
One source for "Let the Big Dog Eat" is a slogan used for decades by fans of the Georgia Bulldogs football team. A "Let the Big Dog Eat" bumper sticker is mentioned in a Gaffney NC newpaper from 1983, and many more recent examples can be found: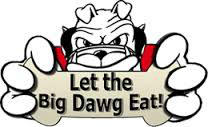 There's even a song. But Jeb! is from New England and Texas and Florida, not Georgia. And anyhow Georgia football has no obvious connection with tax policy.
It's easy to find examples where "Let the Big Dog Eat" refers to a kind of social-Darwinian laissez faire, which is consistent with the "let rich people keep more of their money" interpretation of Bush's usage. Thus Paul Oberjuerge, "… and in this corner", The San Bernadino County Sun, 8/17/1981: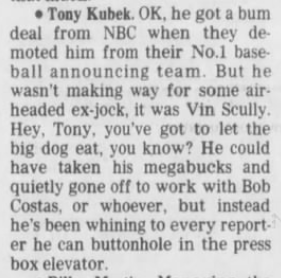 Or Paul Burka, "Is the Legislature for Sale?", Texas Monthly February 1991:
When legislators and lobbyists plead with him to twist an arm or two on their behalf, he favorite expression is, "I don't have a dog in that fight." A close second is, "If you think you've found someone who gives a damn, you're wrong." Hi final piece of wisdom is,, "Let the big dog eat" — that is, the side that can get the most votes wins.
Or, interestingly, in Joel Achenbach, "How would Trump do on the Narcissistic Personality Quiz?", WaPo 8/3/2015:
I will also note that I'm not sure the quiz fully recognizes the phenomenon that I want to call Situational Narcissism. You know what I'm talking about: You have your moments when you're a finger-poppin' badarse and you walk into a room with that Let The Big Dog Eat feeling, but that's no more the real "you" than the schlumpy person who putters around the back yard thinking, "This tomato patch would bring shame upon the family name were anyone on Earth to give a hoot about our family" and, more pithily, "My gardening sucks."
This "situational narcissism" interpretation is consistent with themes of the various blues and country songs called "Let the Big Dog Eat", e.g. this one or this one, and DARE's glossing of big dog as "An important, sometimes self-important, person".
But there's one other possible source, which would make Jeb!'s usage less broadly offensive: golfing slang. Thus John Randall Tabor, Homer is Where the Heart Is, 2011:
In the world of golf, the phrase, "Let the big dog eat" means to swing away with the driver. For example, a golfer might say, "Number 12 is a long par five but it is wide open, so you can let the big dog eat."
So conceivably, Jeb!'s message was supposed to be "The tax code is so screwed up (and I'm doing so badly in the polls) that it's time to just let go of all inhibitions and swing as hard as I can with the biggest club in my bag".
No, wait, maybe that wouldn't be a better rhetorical strategy after all.
---