« previous post | next post »
In a couple of weeks, Pope Francis will be visiting Philadelphia, and the associated security precautions are basically shutting down the city and the region around it.
Major area roads and bridges will be closed, and a "traffic box" will exclude all incoming vehicles in the central part of the city, with on-street parking banned for up to a week in advance. Most regional rail stations will be closed, and "ONLY customers traveling with either a Special One Day Regional Rail Pass or Special One Day Regional Rail Reduced Fare Pass, with the name of the station stamped on the back, will be eligible to travel" from those stations that are open. Many subway and trolley stations will be closed, and because these will include all of the stations in the central city area, transfer between the major east-west and north-south lines will be impossible.
The warnings have been so draconian that most of the special transit passes are still unsold, and a significant fraction of center-city hotel rooms are still unbooked.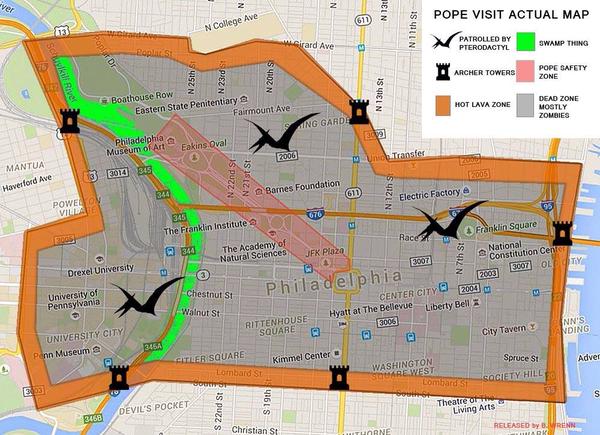 I live on the southwestern edge of the "Dead Zone, Mostly Zombies" region, just inside the "Hot Lava Zone" boundary.
The linguistic angle? All the obvious blend recipes have been re-used. It's the Pope-pocalypse! Pope-mageddon! Pope-nado! Pope-zilla is coming! Hurricane Francis! Nightmare on Pope Street! This whole enterprise suggests to me that the Security Theatre era has reached the Grand Guignol stage.
My favorite Pope-visit spin-off is non-linguistic, though — the Pope Toaster. You can add this to the your collection of graphical toasting products, including the Selfie Toaster and the Grilled Cheesus Sandwich Press.
---