« previous post | next post »
JH Rand sent in this intriguing photograph taken in the Philippines: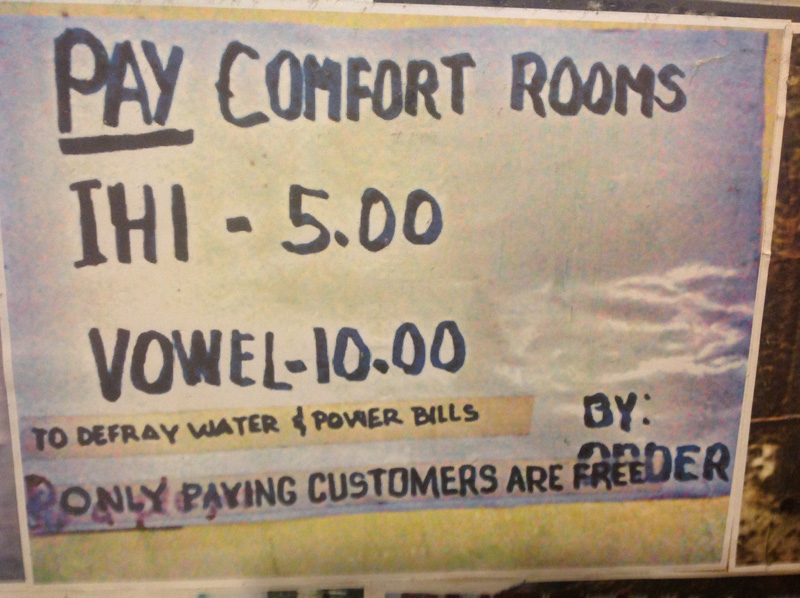 Along with the photograph, JH sent these comments:
I thought you might appreciate this picture showing the Filipino way of handling the issue — can I buy a vowel?  Filipinos evidently conflating b and v like Spanish speakers do. Only paying customers are free?
He is obviously responding to this post: "The big squat" (8/12/15).
There are several bemusing aspects to this sign, but the one that troubled me most was the meaning of ihi. Of course, it must mean "pee", but I wanted to know what language it is in. Fortunately, I found it quickly in "Foul Mouth: Filipino Dirty Words" in the section on "Bodily Fluids, Secretions, and Excrements":
ihi – urine
It's interesting that ihi is followed immediately by this special note:
BAWAL ANG
UMIHI DITO!
BY ORDER
Common signs on walls: No pissing here
The list is full of colorful entries, and continues all the way down to the last one:
utot – fart; Who made utot? – Taglish for who farted?
[VHM: reminds me of "Beans, beans, the musical fruit; the more you eat the more you toot."]
It includes an entry for the Filipino equivalent for what is perhaps the least favorite word in the English language, one which has often been featured on Language Log.
Umihi, the Tagalog word for "urinate", is formed from the root form ihi and the infix -um-. Chris Sundita has provided valuable phonological and grammatical explanation for umihi:
This word has both an initial and a final glottal stop. So, [ʔihiʔ] → [ʔumihiʔ].
-um- is an intransitive (frequently called "actor focus") verb infix. It's unmarked for mood and aspect, so it's in the irrealis mood and has either an infinitive or imperative reading.
-um- can also be perfective aspect. This -um- is descended from an -ungm- that was last attested in the early 20th century. So context helps determine which aspect a verb infixed with -um- indicates.
In any case, with regard to bawal ang [taong] umihi dito, it's literally translated as "the one who urinates here is forbidden." I give it an infinitive reading. There is an implied relative clause, indicated in brackets.
JH provides additional context:
Given the lack of public restrooms ("comfort rooms" — often abbreviated "CR"), public urination is a daily sight in the Philippines and you see lots of signs on buildings there saying bawal umihi dito ("forbidden to pee here").
There are lots of pictures of people doing it, right in front of the bawal umihi dito signs, some of which depict a penis next to a pair of open scissors.
This reminds me of an old post about another anti-urination sign from the Philippines: "It is forbidden to urinate here. The penalty is bang." (9/2/10).
To return to the "PAY COMFORT ROOMS" sign with which this post began, I am particularly amused by the way it ends:
BY:
ORDER
That's even more perplexing than the "BY ORDER" that concludes some of the bawal umihi dito notices in the Philippines.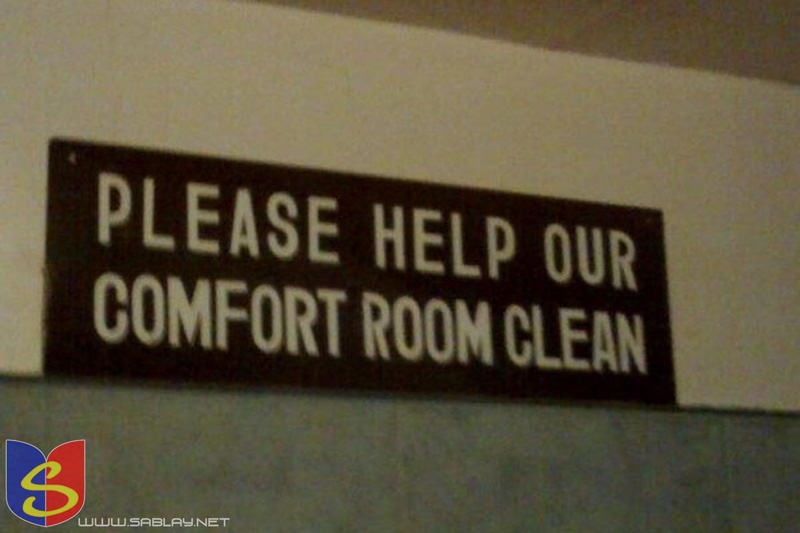 [Thanks to Ben Zimmer]
---