« previous post | next post »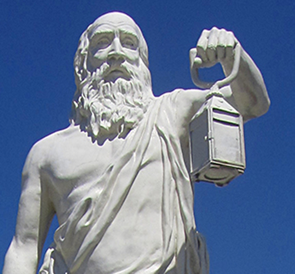 The philosopher Diogenes of Sinope was eccentric, to say the least — he begged for a living, slept in a large ceramic jar in the marketplace, and discarded the wooden bowl that was his only possession, deciding that it was excess baggage. He refuted the Platonic definition of human as "featherless biped" by exhibiting a plucked chicken. In response to the hypothesis that humans are rational animals, he wandered about in daylight with a lantern, explaining that he was looking for a rational individual — usually described in modern versions as looking for an honest man. Plato described him as "a Socrates gone mad".
But if Diogenes were still around, I'd put a tetradrachm or two in his hand, and urge him to go have a talk with Keith Chen.
Back in 2012, Keith published a working paper arguing for a Whorfian effect of tense morphology on cross-cultural variation in future-oriented behavior — a later version is available as "The Effect of Language on Economic Behavior: Evidence from Savings Rates, Health Behaviors, and Retirement Assets", American Economic Review, 2013).
Geoff Pullum expressed skepticism, based on concern about the nature and interpretation of the linguistic facts ("Keith Chen, Whorfian economist", 2/9/2012); and I expressed skepticism, based on concern about the nature and interpretation of the statistical model  ("Cultural diffusion and the Whorfian hypothesis", 2/12/2012).
Keith Chen responded to these concerns in a Language Log guest post ("Whorfian Economics", 2/21/2012), which impressed me with its serious and open-minded attempt to engage our criticisms.
Julie Sedivy added that "correlational studies can only get us so far when there are several viable competing explanations for the correlation", and suggested some experimental approaches that would shed further light on the question ("Thought experiments on language and thought", 2/22/2012).
A year later, Sean Roberts raised some more specific objections about the modeling ("Whorfian Economics Reconsidered", Replicated Typo 2/26/2013), which turned out not to be a strong as he thought ("Whorfian Economics Reconsidered: Residuals and Causal Graphs", 2/28/2013):
Yesterday I posted an analysis of some work by Prof. Keith Chen on the link between future tense marking and economic decisions.  Prof. Chen made some suggestions about changes to the analysis, some of which I've carried out here.  The new results below indicate that the link between future tense and the propensity to save is more robust than the previous post suggested, which is quite embarrassing, but I submit the findings here anyway.
But the interaction didn't stop there — Keith Chen has joined Sean Roberts and James Winters in a recently-published paper, "Future Tense and Economic Decisions: Controlling for Cultural Evolution", PLOS ONE 7/17/2015:
A previous study by Chen demonstrates a correlation between languages that grammatically mark future events and their speakers' propensity to save, even after controlling for numerous economic and demographic factors. The implication is that languages which grammatically distinguish the present and the future may bias their speakers to distinguish them psychologically, leading to less future-oriented decision making. However, Chen's original analysis assumed languages are independent. This neglects the fact that languages are related, causing correlations to appear stronger than is warranted (Galton's problem). In this paper, we test the robustness of Chen's correlations to corrections for the geographic and historical relatedness of languages. While the question seems simple, the answer is complex. In general, the statistical correlation between the two variables is weaker when controlling for relatedness. When applying the strictest tests for relatedness, and when data is not aggregated across individuals, the correlation is not significant. However, the correlation did remain reasonably robust under a number of tests. We argue that any claims of synchronic patterns between cultural variables should be tested for spurious correlations, with the kinds of approaches used in this paper. However, experiments or case-studies would be more fruitful avenues for future research on this specific topic, rather than further large-scale cross-cultural correlational studies.
Sean and James have explained what they did at greater length in a series of blog posts:
"Future Tense and Saving Money: No Correlation When Controlling for Cultural Evolution", Replicated Typo 7/20/2015
"Future Tense and Saving Money: Methods", Replicated Typo 7/25/2015
"Future Tense and Saving Money: Small Number Bias", Replicated Typo 728/2015
When a scientist comes up with an interesting result that gets a lot of press, but also provokes some skeptical responses, the usual behavior is to ignore the negative responses if it's possible to do so, and to mount a hostile defense if it's not.
What Keith has done is in sharp contrast to this norm. He's engaged criticism that he could easily have ignored, and has even joined some critics in a difficult re-evaluation of the work in question.
This may in the end be an effective strategy of self-promotion — but if so, it's one that remarkably few others have discovered. I prefer to think that Keith is someone who would make Diogenes put his lantern down, at least for a while. And I'm certain that society in general, and the activity of rational inquiry in particular, would be better off if more people were to take up Keith's ethos.
---