« previous post | next post »
Sign at a bus station in Inner Mongolia: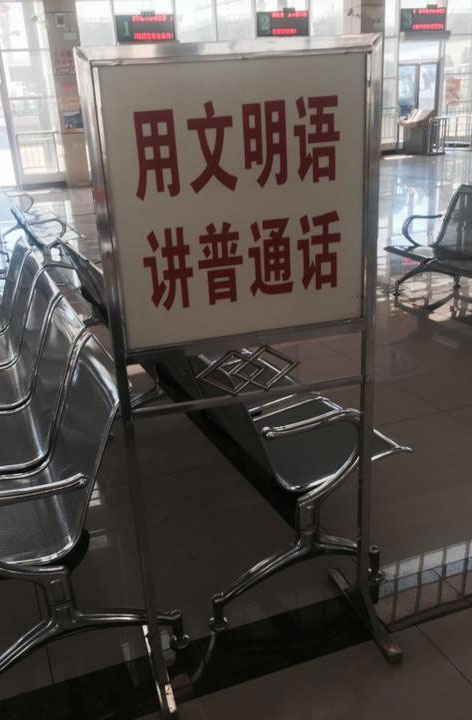 It says:
yòng wénmíngyǔ 用文明语
("use civilized language")
jiǎng pǔtōnghuà 讲普通话
("speak Putonghua [Modern Standard Mandarin — MSM]")
If you look that up on the internet, you will find that most of the references fall under the categories of biāoyǔ 标语 ("slogans") and xuānchuán 宣传 ("propaganda") — of which there are aplenty.
Such slogans and propaganda are much in evidence throughout the country (note especially the propaganda boards that you see all over the place in China).
The injunction to speak MSM often appears in parallel with the charge to xiě guīfànzì 写规范字 ("write standard characters").
Speaking MSM and writing standard characters fall more or less under the same rubric of a citizen's duty to:
ài guóqí 爱国旗 ("love the national flag")
chàng guógē 唱国歌 ("sing the national anthem")
Other posts discussing "civilized language" include:
It is not difficult to tease out the implications.
[Thanks to Geoff Wade.]
---