« previous post | next post »
The most recent xkcd: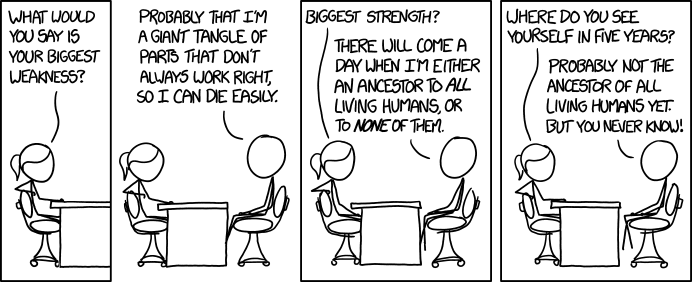 The business about eventually being either "an ancestor to all living humans, or none of them" might have been brought to mind by Adam Rutherford, "So you're related to Charlemagne? You and every other living European…", The Guardian, 5/24/2015.
But it's true, and as discussed in "Being descended from Confucius", 2/9/2012, the basic idea goes back to Joseph Chang,  "Recent  common  ancestors  of all present-day individuals", Advances in Applied Probability, 1999:
Previous study of the time to a common ancestor of all present-day individuals has focused on models in which each individual has just one parent in the previous generation. For example, 'mitochondrial Eve' is the most recent common ancestor (MRCA) when ancestry is defined only through maternal lines. In the standard Wright-Fisher model with population size n, the expected number of generations to the MRCA is about 2n, and the standard deviation of this time is also of order n. Here we study a two-parent analog of the Wright-Fisher model that defines ancestry using both parents. In this model, if the population size n is large, the number of generations, Tn, back to a MRCA has a distribution that is concentrated around lg n (where Ig denotes base-2 logarithm), in the sense that the ratio Tn / (lg n) converges in probability to 1 as n → ∞. Also, continuing to trace back further into the past, at about 1.77 lg n generations before the present, all partial ancestry of the current population ends, in the following sense: with high probability for large n, in each generation at least 1.77 Ig n generations before the present, all individuals who have any descendants among the present-day individuals are actually ancestors of all present-day individuals.
A more elaborate and quantitatively realistic version of this model is explored in Douglas Rohde, Steve Olson & Joseph Chang, "Modelling the recent common ancestry of all living humans", Nature 2004. And the wording of the interviewee's "greatest strength" in panel of the xkcd strip suggests that Randall Munroe has read and remembers Chang's work.
Rutherford's Guardian article cites only Ewen Callaway, "Most Europeans share recent ancestors", Nature News 5/7/2013, which in turns summarizes (without linking or even giving a title! For shame, Nature!) Peter Ralph and Graham Coop, "The Geography of Recent Genetic Ancestry across Europe", PLoS Biology 2013. Ralph and Coop base their estimates on parameters derived from population genomic datasets, and cite the statistical modeling work of Chang et al.
---